President Uhuru Kenyatta has given a go ahead to a young man from Tana River to marry his beautiful and beloved daughter, Ngina.
President Uhuru was reacting to a request made by the Tana River County Youth Leader, who appealed for his help to get Ngina's hand in marriage.
The youth representative, who was part of several youth leaders from the Coastal Counties who assembled at State House, Mombasa, for a youth dialogue forum hosted by Uhuru Kenyatta, confessed his love for Uhuru's daughter and begged the President to give him the green light to marry her right away.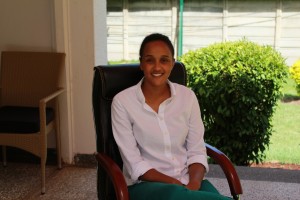 When Uhuru stood to address the function, he shocked everyone and left them in stitches when said that he could not help the man but gave him a go ahead and try his luck.
"Hiyo ingine jitetee," Uhuru said sending the participants into laughter.
Uhuru promised to celebrate next Christmas in Tana River with the family of the young man if he gets lucky to have his proposal accepted and manages to marry his daughter.
"Na ukifanikiwa nitakula Christmas Tana River," he said.