Former Chief Justice David Maraga full name is Hon. Justice David Kenani Maraga. He was born on January 12, 1951 in Bonyamatuta, Nyamira County.
On 22nd September, 2016, the Kenya Judicial Service Commission concluded its search for the 14th Chief Justice of Kenya and the President of the Supreme Court of Kenya and announced that Justice David Kenani Maraga had emerged the most qualified candidate.
His name was submitted to President Uhuru Kenyatta for an appointment. Before that appointment, the president forwarded the name to parliament for vetting and after Parliament's approval, Justice Maraga was formally appointed by the president as the Chief Justice.
As of January 2021, Justice Maraga is 70 years old. This means he will serve for only one term because the retirement age is set at 70 years. It also means that another exercise to search for another Chief Justice will be held in the year 2021.
According to the Kenya Constitution, The Chief Justice has a tenure of Service of a two, Six years term.
Prior to being appointed as the 14th Chief Justice of the Republic of Kenya and the second Chief Justice following the promulgation of the current constitution, he was the Presiding Court of Appeal Judge in Kisumu from October 2014 to July 2016 where he made 1,250 judgments thereby clearing case backlogs.
Chief Justice Maraga Education Background
David Maraga has attended the following academic institutions
The University of Nairobi (1974-1977) – Bachelor of Laws Degree (LLB – Hons.)
The University of Nairobi (2010 to 2012) – Masters in Law (LLM)
The Kenya School of Law (1977 to 1978) – Post-graduate Diploma.
Kisii High School (1972 to 1973) – East African Advanced Certificate of
Education (A Level)
Maranda High School (1968 to 1971) – East African School Certificate (O
Level)
Sironga DEB Primary School (1961 to 1967) – Certificate of Primary
Education (CPE)
Chief Justice David Maraga Job History
These are the positions he has held in his legal career
The Chief Justice of the Republic of Kenya – 2016 to 2021
Court Of Appeal, Nairobi – January 2012 to September 2014
Presiding Judge of the Court of Appeal at Kisumu
The Chairman of the Judiciary Committee on Elections – August 2015 to 2016
The Chairman of a Tribunal appointed by His Excellency the President of the Republic of Kenya to investigate the conduct of a Judge of the High Court of Kenya. 2014 – 2016.
Presiding Judge of the Family Division of the High Court at Nairobi – April 2010 to December 2011
The Resident Judge, High Court of Kenya at Nakuru – May 2009 to August 2010
A legal practitioner in private practice for twenty-five (25) years, where he engaged in civil and criminal litigation as well as conveyancing matters.
A judge at the Nakuru Agricultural Show Trade Stands from 1985 to 1990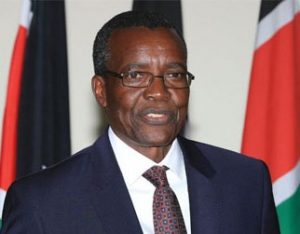 Chief Justice Maraga was tasked to head the tribunal that recommended the removal of Judge Joseph Mutava.
After the tribunal he headed finished the hearings and collated the full report, Justice Maraga on 21st September, 2016 presented the report to President Uhuru Kenyatta with the recommendation that Judge Mutava be removed from service for misconduct.
He had successfully undergone the Sharad Rao's vetting board fending off accusations of tribalism and bribery seeking and was unanimously endorsed to continue to serve in 2012.
Chief Justice David Maraga is a staunch Seventh Day Adventist. He startled the JSC vetting board proceedings when he invoked God's name loudly and went on to swear that he had never taken a bribe in his life and that he can never work on Saturday because he cannot compromise Church for work on that day since it is a day for worship and rest.
David Maraga Family
David Maraga is married to Yucabeth Nyaboke and is blessed with three children.