Ferdinand Waititu profile
Ferdinand Waititu was born in January 1, 1962 in Kibera, Nairobi. He is the current Governor of Kiambu County having won the August 8th, 2017 gubernatorial elections.
He is the former Kiambu County Governor. He was successfully impeached by the Kiambu County Assembly for Corruption and gross misconduct.
In 2013 he changed his name from Ferdinand Ndung'u Waititu to Ferdinand Clifford Ndung'u Waititu.
He was a member of the Kenyan parliament for the Kabete Constituency, Kiambu County having been elected in mini poll in 2015.
Ferdinand Waititu Education
Hon. Waititu went to Mbagathi Primary School and sat for his CPE exams in 1975 then proceeded to Dagoretti High School where he obtained the Kenya Certificate of Education in 1981. He then proceeded to Technical University of Kenya, then Kenya Polytechnic before proceeding to Panjab University in Chandigarh, India where he obtained a Bachelor of Commerce Degree in 1991.
Waititu Political Career
Mr Waititu vied for the governorship of Kiambu County to oust the incumbent governor William Kabogo. He combined forces with Mr James Nyoro and Dr David Kariuki Ngari of Gakuyo Real Estate and Ekeza Sacco. they managed to dislodge Hon. Kabogo from power
Prior to 2013, Hon. Waititu was the Member of Parliament for Embakasi Constituency and assistant minister for Water Services and Irrigation in the government of Kenya.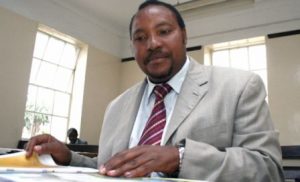 Hon. Waititu is a former deputy mayor and Councillor of Nairobi.
He is described as a "fiery politician" and has been arrested on several occasions, including for "hate speech" directed against ethnic Maasai and for protesting the demolition of shanty houses in Kayole Estate in Nairobi In September 2012. He was suspended from his government post over charges of hate speech and inciting violence.
He is often referred to as 'Baba Yao' (Kiswahili for 'Their father'). He lost the Nairobi gubernatorial election to Dr Evans Kidero in March 2013.
Hon. Waititu, however, found a way back to active politics on 4 May 2015 after winning a seat as a member of parliament for Kabete Constituency through a by-election following the death of the area MP George Muchai who was murdered in the streets of Nairobi.
In 2014, Hon. Waititu officially announced to run for the gubernatorial seat for Kiambu County to battle it out with Governor William Kabogo come next general elections. This reawakened the debate on the authenticity of his degree certificate from Panjab University in India. Some pundits say he is using another person's education credentials because he does not have any degree certificate to qualify for any gubernatorial seat.
In 2013, he changed his name from Ferdinand Ndung'u Waititu to Ferdinand Clifford Ndung'u Waititu. This provided fodder for his opponents to kick him out of the race, a tactic that will be used against him in 2017.
Waititu's family
Waititu was born from a polygamous family. He has fourteen siblings. His father was a landlord in the Kibera shanties
Waititu's wife
Ferdinand Waititu's wife is called Susan Wangari. They got married in 1989.
Ferdinand Waititu children
Hon. Waititu's Fist born is Monicah Njeri, Second born is Josephine Wanjiru, and three sons.
Ferdinand Waititu age
Ferdinand Waititu is 59 years old as of 2021 having been born on January 1, 1962.