KUCCPS Admissions Board has released the Gretsa University KUCCPS Admission List for the Year 2023. Follow this link to view the Gretsa University fee structure, KUCCPS Admission List 2023 and KUCCPS Admission Letters 2023 Download.
Gretsa University Fee Structure 2023
To view the Gretsa Fee Structure follow this link Fee Structure
Gretsa University Bank Account
Account Name: Gretsa University
Bank: Equity Bank Thika Supreme Branch
Bank A/c Number: 0180290365510
Amounts payable can be deposited in this account from any Equity Bank countrywide
Application and Registration Forms Download
Follow on the links below to apply for admission online and also to download the application form
Gretsa University List of Placed Students, KUCCPS Admission list and KUCCPS admission letters download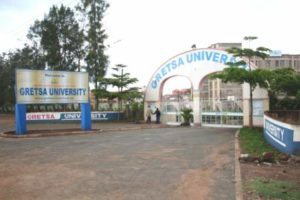 Admission letters for Government Sponsored Students are forwarded to each students respective emails.
Students who have not received their admission letters are advised to collect them from the University.
Those who will not manage to do so can collect their letters on the reporting date
To view the list of KUCCPS Placed students, click HERE
To view and Download all the University timetables Click HERE
To view and Download the University graduation date details Click HERE
To view and Download the University opening date details Click HERE
Gretsa University's Contacts, Location, Address
Postal address: P.O Box 3 – 01000, Thika, Kenya
Telephone: +254 20 230 8997
+254 20 230 8998
+254 20 261 2420
+254 20 261 2421
Mobile: +254 71 194 9006
+254 71 295 9293
+254 70 391 7155
Email Address: admission@gretsauniversity.ac.ke
info@gretsauniversity.ac.ke
gretsauniversityadmission@gmail.com
Location: Main Campus, Thika Town Along Thika-Garissa Road