Justice Wanjiru Karanja profile
In the professional circles she is referred to as Hon. Lady Justice Wanjiru Karanja.
Justice Wanjiru sits in the Kenyan Court of Appeal.
Justice Wanjiru Karanja Education
Justice Wanjiru obtained Degree in Law from the University of Nairobi in 1984. She later enrolled for Master of law in Public International Law at the University of London and graduated with an LL.M. degree in 2009.
Justice Wanjiru Career
She was admitted to the Bar in Kenya in 1984, and joined the judiciary in 1985 as a District Magistrate. She was the first judge to sit at Kakuma Refugee Camp, which serves over 70,000 refugees. Her service at Kakuma inspired her interest in international human rights, women's rights, and refugee law.
She has risen through the ranks, serving in several stations throughout the country, and was appointed a Puisne Judge in 2004.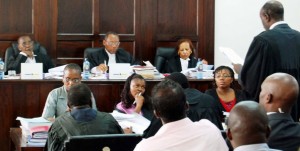 Justice Wanjiru has been instrumental in anti-corruption efforts in Kenya. In 2010, she was appointed by the Chief Justice of Kenya to sit as the Chief Magistrate on the Tribunal to investigate the Chairperson of the Truth, Justice and Reconciliation Commission.
In December, 2011, she was elevated to the Court of Appeal.
Justice Wanjiru Karanja Supreme Court
Justice Wanjiru is poised to take over as Deputy Chief Justice from the retirement of Justice Kalpana Rawal. Justice Kalpana Rawal has attained the retirement age of 70 years.
Rawal took office on June 3, 2013 following the exit of Dr Nancy Baraza, now a law lecturer at the University of Nairobi. Top-notch legal minds have all craned their eyes on the succession puzzle at the apex of Kenya's Judiciary with a view to ascending to the offices that will become vacant in the near future, including that of Chief Justice Dr Willy Mutunga.
Justice Wanjiru Karanja family, Husband, Children
Details pertaining to the family of Hon. Lady Justice Wanjiru have not yet been finalized