Justice Roselyn Naliaka Nambuye – Biography, Supreme Court, Age, Education, Career, Family, Business, salary, wealth
Roselyn Nambuye bio
Roselyn Nambuye full name is Roselyn Naliaka Nambuye. In the professional circles she is referred to as Lady Justice Roselyn Naliaka Nambuye.
Before her divorce in 1990 her name was Roselyn Naliaka Nambuye Walekhwa but after her divorce she changed her name to Roselyn Naliaka Nambuye through her lawyer Oraro and Rachier.
She was born in the year 1952 in Bungoma County.
Roselyn Nambuye Education
Justice Roselyn Nambuye attended Lugulu Girls in Bungoma. She pursued a Bachelor of Laws degree at the University of Nairobi in 1973 and graduated with an Upper Second Class Honours.
In 1976, she proceeded to the Kenya School of Law for a diploma in Law.
Roselyn Nambuye career
After her graduation from the Kenya School of Law in 1976, Justice Roselyn Nambuye was then posted to Marsabit as a District Officer III, but advanced to District Officer II in less than two years.
In 1980, she joined the Bench as a District Magistrate and worked in Nairobi, Nakuru, Kericho, Eldoret, Kisumu and several other stations.
A quick rise through the ranks would propel Justice Roselyn Nambuye to the Acting Resident Magistrate position before she advanced to Resident Magistrate, Senior Resident Magistrate, the first woman Principal Magistrate and ultimately the first woman Chief Magistrate.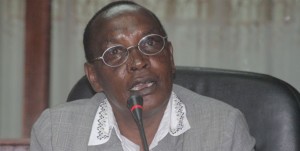 In 1991, she was appointed the third female judge in the High Court of Kenya and in 2011 she was appointed to the Court of Appeal.
Justice Roselyn Nambuye serves as the Chairperson of the Kenya Women and Judge's Association that has continued to press for the hiring of more women judges. She is happy with the transformation at the Bench.
Roselyn Nambuye Deputy Chief Justice Supreme Court Kenya
Justice Roselyn Nambuye is favoured to take over from Justice Kalpana Rawal who has reached the retirement age of 70. As of 2016, Justice Nambuye is 64 years old and can comfortably serve in that capacity.
Roselyn Nambuye vetting by Justice Aaron Ringera Team
In 2003, the Integrity and Anti-corruption Committee of the Judiciary that had been established to rid the Bench of those deemed to have been implicated in corruption ruled that she was unfit to serve and recommended she be removed from office as part of an exercise then referred to as radical surgery.
However, she challenged this decision by the Justice Aaron Ringera-led team and was reinstated by former President Mwai Kibaki even before the tribunal completed its investigation.
Roselyn Nambuye vetting by Sharad Rao Team
Justice Roselyn Nambuye served on the Court of Appeal Bench until 2012 when the Sharad Rao-led Vetting Board attempted to cut short her career when it ruled that she had a tendency to delay rulings and judgments. However, she challenged her removal and asked that she be vetted afresh due to weaknesses and anomalies in the vetting process. During this re-vetting, Nambuye was cleared of all allegations and was declared fit to resume her duties.
Roselyn Nambuye divorce
Justice Roselyn Naliaka Nambuye still vividly recalls her divorce in 1990, a marriage breakdown she attributes to her inability to get children.
He ex-husband had returned to Kenya from Russia where he was pursuing a Medical degree. They had a colourful wedding at the Nyeri cathedral and lived happily until 1980 when the first cracks began to emerge. Nambuye could not get children and in classical African fashion, her parents-in-law brought a second wife into her home.
When the second wife came into our marriage in 1981, she resolved to stay put to make her marriage work but since the co-wife was a form four leaver and she was a scholar, things could not just work out at home.
In 1990 she quit the marriage.
Roselyn Nambuye husband Justice Daniel Kennedy Aganyanya
Justice Nambuye re-married Justice Daniel Kennedy Aganyanya, now a retired judge, much later in 1994 and started a new life with him until now.
Roselyn Nambuye children
She could not bear children of her own but she has step-children and step-grandchildren to look after from the second marriage.
Justice Nambuye takes pride in the 100 foster children she supports through education and financing.