KU Kenyatta University KUCCPS Admission Letters 2023/2024 Download, KUCCPS Admission List
KUCCPS Admissions Board has released the KU KUCCPS Admission List for the Year 2023. Follow these links to view the KU Kenyatta University KUCCPS Admission List 2023 and KU KUCCPS Admission Letters 2023 Download.
KU KUCCPS Admission Letters Download 2023/2024
This is the KU – Kenyatta University Admission Letters Download portal. View the Admission List, Admission Enquiry and Download the Admission letters HERE.
The Kenyatta University KUCCPS Admission List is prepared by KUCCPS Board prior to submitting the same to KU for admission. These are the Government-sponsored students who get part of their funding from the HELB – Higher Education Loans Board.
The entry and admissions requirements for the government-sponsored students is determined by the Kenya Universities and Colleges Central Placement Service Board.
Application for Admission into Kenyatta University Undergraduate Programmes for self Sponsored Programmes
Entry Requirements for Undergraduate Degree Courses
A minimum of Grade C+ at the Kenya Certificate of Secondary Examination (KCSE) or equivalent. In addition, applicants must meet specific degree requirements for each school. The entry requirement set should be regarded as the minimum, which in no way entitle an applicant to a place at the university.
Below are important download links for admissions for the self-sponsored students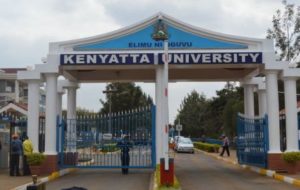 👉Admission Forms: Certificate, Diploma & Degree
👉Admission Forms: PostGraduate
👉Admission Forms: International Students
👉Fees Structure: Digital School of Virtual and Open Learning
👉Fees Structure: School-Based Fees Structure
Kenyatta University KUCCPS Admission Letters Download Contacts
Students, parents and guardians should address all other applications for admission to the following office in the university,
The Registrar (Academic),
Kenyatta University,
P.O. Box 43844 – 00100, Nairobi,
So as to reach him not later than 30th November of the year preceding that for which admission is sought.