KUCCPS Admissions Board has released the University of Kabianga KUCCPS Admission List for the Year 2023.
Follow these links to view the University of Kabianga KUCCPS Admission List 2023 and Admission Letters 2023 Download.
University of Kabianga Contacts, Location, Address
University of Kabianga Main Campus
P.O. Box 2030-20200 Kericho, Kenya
Email: chancellor@kabianga.ac.ke
University of Kabianga main Campus is located in Kabianga Division in Kericho West District. It is situated in the Kabianga Complex, comprising of the then Kabianga Farmers Training Center, Kabianga High School and Primary School and the Kipsigis County Council Tea Farm.
It is located approximately 26 km from Kericho Town and is about 6.2 km off road a junction called Kabianga Dairies, formerly 'Premier' on Kericho-Kisii road.
University of Kabianga – Kericho Town Campus
P.O Box 2030 – 20200 Kericho, Kenya
Email: towncampus@kabianga.ac.ke
University of Kabianga – Kapkatet Campus
Kaplong – Litein road
P.O Box 2030 – 20200 Kericho, Kenya
Email: kapkatetcampus@kabianga.ac.ke
University of Kabianga Application Forms Download
To download the application forms – Click here
You can also get the Application Forms from Admissions Office at Main Campus, or Kericho Town Campus Reception or Kapkatet Campus Reception
The following non-refundable fee is chargeable during application as follows
Certificate and Diploma Programmes: Ksh. 500
Undergraduate Programmes: KSh. 1000
Postgraduate Programmes: Ksh. 2000
University of Kabianga Fee Structure 2023
To view and download the University of Kabianga Fee Structure Click HERE
University of Kabianga Bank Account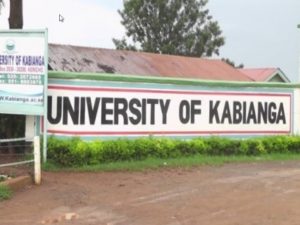 Application and Tuition fees should be deposited in the following bank accounts
University of Kabianga bank Account For Government Sponsored Students Programme
Cooperative Bank Branch Account Number – 01129335586400
University of Kabianga Bank Account For Privately Sponsored Students Programme
Cooperative Bank Branch Account Number – 01129335586401
University of Kabianga bank Account for Accommodation Fee
KCB – Kenya Commercial Bank Branch Account Number: 1120671299
KCB – Kenya Commercial Bank Branch Account Number: 1120671418