How to check and get the released KNEC KCPE Exam Results 2021/2022 via SMS/Online, Results Per County, Top schools, Top Students/Candidates, Cheating Cases, Cancelled Results.
How to Check KCPE Results 2021/2022 via SMS and Online
How do I check my KCPE Results?
To check your KCPE Results 2021/2022 by SMS send an SMS with your Index Number and the word KCPE in capital letters i.e (XXXXXXXXX KCPE) to 20076 for Safaricom, Airtel and Telkom networks.

The KCPE results 2021/2022 can be viewed online from this link ….. Search your KCPE Results 2021/2022 – HERE
How to Download 2021/2022 KCPE Result Slips online for Candidates
School Headmasters will collect the results from the sub-county education offices for the candidates to finally collect them in the education centres. They can also access to the KCPE results portal from this link http://www.knec-portal.ac.ke/
Procedure
Visit the official KNEC schools' portal by clicking the link above.
To login to the KNEC portal, Insert the User Name and Password which you used during the KCPE 2021 registration.
Once inside the portal, you will see several boxes. First, under the box labelled 'FROM INDEX', input the index number of the first candidate and in the box labelled 'TO INDEX NUMBER' input the last candidate's index number. Click on 'VIEW REPORT'.
Wait for the result slips to load. When all the slips are loaded, click on the menu labelled 'EXPORT'.
Select the format you would like to export the KCPE Result Slips e.g. 'WORD' or 'PDF' formats.
The KCPE Result slips will be downloaded to offline storage in your computer.
You can then print the downloaded result slips.
KCPE Results 2020
The KCPE Results 2020 have been released by the Education CS George Magoha. 1,187,517 students registered for KCPE 2020 and 1,179,192 candidates sat for the KCPE Examination in March 2021. The candidates were examined in 7 subjects and tested in 9 papers.
12,000 candidates did not sit for the KCPE Exams 2020 but the performance was remarkable. All candidates who receive their results will transit to secondary school.
Form One Selection for all categories of schools will be done from 28th May 2021.
The government in collaboration with The Equity Bank Foundation will offer the poor students elimu scholarship programme. There are 9000 slots available.
This is how the top candidates performed
Mumo Faith Kawii from Karimwailu Primary School with 433 marks
Yumbet Wesonga Nanzala from Chogoria Girls with 432 marks
Muriithi Gakenia Angel with 432 marks
Wanyonyi Samuel with 431 marks
Castrol Williams with 431 marks
Tarus Chepkemboi Maureen with 431 marks
Kipkurui Abiud with 430 marks
Mwangi Waruguru with 429 marks
Dennis Omondi with 429 marks
Kiogora Joyce Nkatha with 429 marks
Daniel Chris Mboya with 428 marks
In the news 2021: The KCPE Exams Results for the 2020 candidates will be released on the 15th of April 2021 if things go as planned. This was announced by the Education CS Prof George Magoha but also added that in case of any changes, the same will be communicated by his office to the public.
Any delay that may result would be due to the great challenge posed by the Covid-19 pandemic movement restriction in some counties which made some examiners be unable to show up for the marking in the marking centers. Others however failed to turn up due to their fears over the Covid-19 pandemic.
Prof. George Magoha, however, noted that the above mishaps have not interfered with the KCPE exams marking schedule and that the Ministry of Education has done everything possible to ensure the results are out as per the schedule.
By Monday, 6th April 2021, only the marking of Kiswahili Insha and English Composition was not complete.
KCPE 2019 Top Candidates
KCPE 2019 Top Candidates
Below, you will find a list of 100 Most Improved KCPE Candidates in the just released 2019 KCPE Exams. You will also find the 2019 KCPE Results of the best/top Schools per County, the top schools nationally in the KCPE Results 2019, top schools in every county, top/best students/candidates nationally/countrywide!
The KCPE 2019 Exam top candidate is Andy Michael Munyiri from Damacrest School in Thogoto who scored 440 Marks. The second position was a tie among three candidates namely Flavian Onyango of Chakol Girls Primary School, Busia, June Cheptoo Koech of Sang'aro Central Girls and Sean Michael Ndung'u of Kitengela International Schools who all scored 439 marks.
In 2019, this was the performance distribution
400 – 500 Marks – 9,770 candidates
301 – 399 Marks – 243,320 candidates
201 – 299 Marks – 586,886 candidates
101 – 199 Marks – 262,307 candidates
0 – 100 Marks – 1,173 candidates
2407 students with special needs sat for KCPE exam in 2019. The top special needs student scored 414 marks. 211 candidates scored between 300 – 400 marks.
KCPE Results 2021 Per County, Top schools, Top Students/Candidates
2021 KCPE Examination Results – Top 5 and Bottom 5 Schools in Every County
2021 KCPE List of Top 10 Counties in Kenya
2021 KCPE Results for Best/Top Students Nationally
2021 KNEC KCPE List of Top 5 Public Primary Schools in Kenya
2021 KCPE Results List of Top 5 Private Schools
Form One Selection 2020 for Secondary School Form 1 intake and Admission – How To Check Form One Admission Details Online & Via SMS
2021 Secondary School Scholarships in Kenya
KCPE 2021 List of Top Primary Schools in Kenya
KCPE 2021 Results Top 100 Candidates Nationally (Male and Female)
KCPE 2021 Results: County Order of Ranking
KCPE 2021 Top 100 Female Candidates Nationally
KCPE 2021 Top 100 Male Candidates Nationally
KCPE 2021 Top 5 and Bottom 5 Schools per County
KCPE Results 2021 Best Candidates Nationally
KCPE Results 2021 Top 100 schools
KCPE Results Best Female Candidates Nationally
KCPE Results Best Male Candidates Nationally
New Form One Selection Rules
Selection of 2021 KCPE Candidates for Form One Places
Top scholarships to help 2021 KCPE candidates in secondary school education – full Kenya secondary school sponsorships
The KCPE Results 2018 Release
The KCPE Results 2018 has been released today on 19th November 2018 by the Education CS Amina Mohammed at the Star of the Sea Primary School in Mombasa. Thereafter placing of the students for form one vacancies will begin on Monday, 3rd December, 2018.
By the time the holiday euphoria kicks in all pupils should know which secondary school they are placed. This is to facilitate proper funds capitation for free Secondary School come 2019. All students who sat for KCPE 2018 will transit to secondary school marking 100% transition. Only one selection process will be done, no extension or 2nd intake.
Students and Parents can thereafter immediately start doing the form One Selection online with instructions and procedure from this link – Form One Selection 2019 Guidelines
In the year 2018 the total number of candidates was 1,0520,364. The boys were 527,294 representing 50.1% of the total. Girls were 525, 070 representing 49.9%.
Girls outperformed boys in English, Kiswahili and sign language exams. The boys shone in Mathematics, Sciences, Social studies and Religious Studies. 50% of the candidates scored over 250 marks.
Top Student in KCPE 2018 Results
In 2018 two students tied for the top position by scoring 453 marks out of 500 marks. They are Olive Mwea – Riara Group of Schools and Rawlings Odhiambo – Kakamega Hills.
The number of candidates in 2018 scoring 400 marks and above is 12,273 as opposed to 9,846 marks last year. The top special needs student scored 446 marks.
Other scores are as follows
228,414 candidates scored between 301 -399 marks
574,927 candidates scored between 201 -300 marks
234,573 candidates scored between 101 -200 marks
2,177 candidates scored between 1 – 100 marks
How to Check KCPE Results 2018 via SMS and Online

To check your KCPE Results 2018 by SMS send an SMS with your Index Number to 20076 for Safaricom, Airtel and Telkom networks.
The KCPE results 2018 can be viewed online from this link ….. Search your KCPE Results 2018 – HERE
School Headmasters will collect the results from the sub-county education offices for the candidates to finally collect them in the education centres. They can also access to the KCPE results portal from this link http://www.knec-portal.ac.ke/
KCPE 2017 Results Top Candidate
The top candidate scored 455 out of 500 marks, an 18 mark improvement from last year's 437.
Of the 1,003,556 candidates who wrote the exams, 9,846 scored 400 marks and above out of the possible 500.
All the over candidates who managed 400 marks and above would join national secondary schools whether they sat the tests at a private or public exam centre.
Dr Matiang'i said there were no irregularities that were recorded during the exams and also during the marking.
—————————————————
KCPE 2018 Results Top Candidate
The Highest candidate in KCPE results 2018 scored 437 marks out of the possible 500 marks. Education CS Fred Matiang'i interestingly noted that this candidate couldn't have ranked above to 90 candidates in 2016 KCPE Results.
The number of candidates scoring 400 marks in KCPE 2016 was 5190 down from 7560 in KCPE 2015. This is a 31% drop in students above 400 marks.
Special needs students were 1,950 and one of them scored 421 marks.
Cheating in KCPE 2018 Results
In KCPE 2018 Results, none of the papers was leaked since all leakage attempts were thwarted. Education CS Amina Mohammed said that exam cheating caused ridicule to Kenyans who sought employment regionally and internationally because their examination credentials were frowned upon. The Education Ministry spent much money on securing the examination process. The cost-benefit of extra
cost of exam administration is justifiable in comparison to the shame, ridicule and lost opportunities Kenyans faced previously.
There were only four instances of exam cancellation in KCPE 2018 due to impersonation. The candidates will be allowed to resit for the exam next year.
…………………………………………………
In KCPE 2017 results, there was no cheating or leakage, therefore no cancellation of results. But there was a total of 21 malpractices in Wajir County where there were teachers caught with cellphones in the bush trying to send answers to candidates. However, the possible answers were just ending up with the security officers because all cellphones were left safely with the security officers.
The TSC CEO Mrs Macharia noted that the exercise was 99% successful because ICT because incorporated in the marking process and the excellent partnership of various education sectors and the government.
Pregnancy cases during KCPE Exam 2018
No resitting of the exam for the pregnant girls. In October, 32 teachers who were found to have caused these pregnancies were deregistered.
As part of the remedy to this problem, TSC CEO Nancy Macharia said that private schools MUST employ teachers who have registered with TSC and have TSC numbers. This is to ensure that all teachers in all schools abide to TSC Code of Conduct.
Ranking of Schools in KCPE 2018 Results, Top Schools, results per county
There will be no ranking of schools in 2018. A law for ranking was passed in October 2016 but there was legislation required to effect that which the Education Ministry has not yet legislated upon. From next year ranking will come back
All students scoring above 400 marks will join National schools of their choice
Headteachers will be Supported, strengthened and rewarded well
This, however, appears to be the beginning of the last days of the KCPE Examinations following the overhaul of the Education System in Kenya from the moribund 8-4-4 to the new system and curriculum, 2-6-3-3-3.
KCPE Result Slip 2018 Download and Printing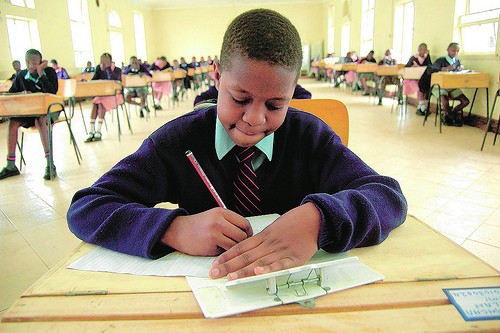 After obtaining the KCPE result slip from their respective schools, the Kenya National Examination Council advises parents and pupils to check the KCPE Result slip for any anomaly such as incorrect candidate's name, school name and code as well as wrong subject grade and report to KNEC within a month after the announcement.
KNEC official website www.knec-portal.ac.ke
The official website to check your KCPE Results 2018 is www.knec-portal.ac.ke. This is the KNEC online portal that will also be used by Headmasters and Principals to download and print the result Slips.
Watch below a video tutorial explaining how to check KCPE 2018 Results online
KCPE Results Remarking
The KNEC accepts the request for KCPE result remarking if the candidate feels that the results got did not reflect what was expected. The candidate should submit the request for remarking within 30 (Thirty) Days after the date the results were released. This remarking will attract a fee of Ksh. 1000.
Remarking of scripts may be undertaken by the Council at the written request of the headteachers who presented the candidate.
Requests for remarking from a private candidate shall be channelled through the Provincial Directors of Education or the District Education Officers of the Ministry of Education or the candidate presenting himself/herself physically at Mitihani House, KNEC Headquarters where one will need to fill a form.
The Council shall undertake to remark scripts only after satisfactory reasons are given by the requesting headteacher justifying the remarking of scripts for a candidate whose results have already been issued.
The Council may reject any request for remarking where in its opinion, a strong case for the same has not been established.
Funny KCPE Exam Results Jokes, Humour Quotes and Laughter SMS Messages