To access the Chuka University Student Portal Login kindly follow these steps:
How to Login;
First, go to https://portal.chuka.ac.ke/
Type your username and Password then Click 'Login'
Chuka University KUCCPS Admission Letters 2023 Download
KUCCPS Admissions Board has released the Chuka University KUCCPS Admission List for the Year 2023. Follow this link to download your KUCCPS Admission Letters 2023
University Elearning Portal
To login to the Elearning Portal follow this link Elearning Portal
If you have forgotten your Chuka University Elearning Portal login password click here Forgot Password
Forgot Password for the Student Portal | Password Reset
The Chuka University Student Login Portal lacks the reset password link. So if you have forgotten your Login Password contact the webmaster of the portal.
Online Course Application – How to Register for Courses online in Chuka University Portal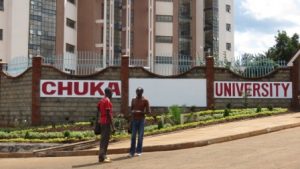 Follow these steps to apply for courses online
On the website, https://portal.chuka.ac.ke/ click on the 'Apply Online'
In the new Page, you will be required to fill all the fields indicated there. The fields marked with a red asterisk are mandatory. Fill all these fields
👉General Details
👉Personal Details
👉Course Choices
👉Contact Information
👉Academic Background Information
👉Click Apply Online