Patrick O. Kiage profile
Justice Kiage full name is Justice Patrick Omwenga Kiage. He was born on 6 September 1969 in Kisii Kenya.
Justice Patrick O. Kiage Education
Justice Patrick Kiage attended Alliance High School before He attended the University of Nairobi for his law degree and the Kenya School of Law for a diploma in legal practice.
He holds a Master of Laws degree in Public Service Law from New York University where he majored in Human Rights and Criminal Justice.
Justice Kiage Career
Justice Patrick O. Kiage is a Judge of the Court of Appeal sitting in Nyeri.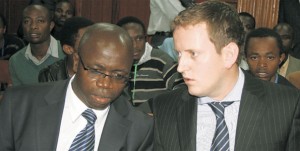 He was admitted to the Roll of Advocates in 1993, and worked as a criminal defence lawyer. He also served on the National Council of the Law Society of Kenya.
In 2007, he was appointed as a Special Prosecuting Counsel in the Office of the Director of Public Prosecutions.
Until his appointment to the bench, he was a Deputy DPP in charge of County Affairs and Regulatory Prosecutions.
He has taught Criminal Procedure and Practice as well as Family Law at the Catholic University of Eastern Africa, and Trial Advocacy at the Kenya School of Law.
He has written many academic papers and is the author of a textbook, The Essentials of Criminal Procedure in Kenya.
He served on the National Council of the Law Society of Kenya.
Justice Kiage Age
As at 2021 Justice Patrick Kiage is 52 years old.
Justice Patrick Kiage Supreme Court
Justice Patrick O. Kiage is a potential contender for the post of Chief Justice of Kenya or that of an associate judge of the Supreme Court. Several judges of the supreme court are past the age of 70 and should retire, paving was for new entrants like Justice Patrick Kiage.
Justice Kiage Family, Wife, Children
Justice Kiage is married to one wife and has children.