Justice Mohamed Khadhar Ibrahim Bio, Age
He is referred to as Hon. Justice Mohamed Khadhar Ibrahim. He currently resides in Nairobi Kenya. Currently, his age is not publicly documented.
Justice Mohamed Ibrahim Education
He attended the University of Nairobi where he graduated with a Bachelor of Law Degree. He was admitted to the Roll of Advocates on January 11, 1983.
Justice Mohamed Ibrahim career
Justice Mohamed Khadhar Ibrahim was appointed a judge of the inaugural Supreme Court of Kenya on June 16, 2011 after an open and competitive interview. Until then, Justice Ibrahim had been a High Court Judge since his appointment on May 22, 2003, serving in Eldoret, Nairobi and Mombasa.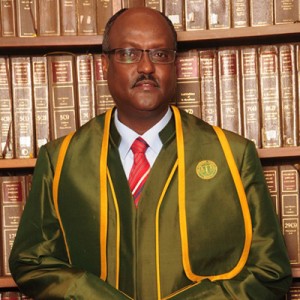 After he was admitted to the Roll of Advocates on January 11, 1983 he practised law at Messrs Waruhiu & Muite Advocates, where he was admitted as a partner in 1985.
In 1994, he established Mohammed Ibrahim & Associates, which subsequently expanded to become Ibrahim & Isaack Advocates in 1997.
He has served as a council member of the Law Society of Kenya and a board member of a non-governmental organisation, Legal Education and Aid Programme (LEAD).
He was actively involved in civil rights advocacy at the advent of the pro-democracy movement in Kenya and was detained without trial in 1990.
Justice Mohamed Khadhar Ibrahim Supreme Court, Retirement
He is now a Judge of the Kenya Supreme Court. He was appointed to the inaugural Supreme Court on June 11, 2011.
Since Justice Willy Mutunga will be retiring on 20th June 2016, it is highly anticipated that Justice Ibrahim will want to inherit him.
Justice Mohamed Ibrahim vetting by Sharad Rao
After the Kenya Constitution was promulgated in 2010, a Judges vetting board chaired by Sharad Rao declared Ibrahim unfit to continue working as a judge because he had a backlog of 264 judgements, rulings on applications and other matters, some that have been pending for eight years.
The board found that Ibrahim had twice promised to clear the backlog accumulated from his postings as High Court judge in several towns in Kenya.
Each time he failed to do so. He had made one such promise to the bar association, the Law Society of Kenya, and another to the Judicial Service Commission, the judiciary's supervisory body that the Chief Justice chairs.
In 2012, the vetting board learned that Ibrahim had asked Chief Justice Willy Mutunga in May to allow him three months to clear the backlog. Mutunga granted Ibrahim's request, on condition that he would be available for any Supreme Court cases he may be needed for.
Justice Mohamed Parents
Little is known of his parents although it is acknowledged he is of the Somali Origin
Justice Mohamed Ibrahim Family, Wife, Children
His wife and children whereabouts have been kept a big secret from the public limelight.
Justice Ibrahim Business, Investments
His investments and businesses have also been hidden from the public scrutiny
Justice Mohamed Ibrahim Salary, Wealth
Justice Mohamed Khadhar Ibrahim's Salary as Supreme Court judge is Ksh. 757,770  basic salary and Ksh. 324,758 in allowances totalling to Ksh. 1,082,528.