We are going to learn how to register in Ghris Login Portal Ghris Payslip Download, KRA P9 Form Download from Ghris Portal, How to Upload Certificates, Update details and to Change, Reset or recover Ghris Password if you Forgot it.
The Government of Kenya has brought its HR Services online to ease its HR obligation to its employees through the Government Human Resource Information System.
Therefore all government employees are required to have a Login Portal account in order to be served well by their employer. 
Government employees will be required to register for the GHRIS Login Portal services, upload and update their employment profiles.
They will be using the same Ghris Portal to download their payslips which are vital for personal services like getting a bank loan.
Also, through the GHRIS Login Portal, employees will be able to download their KRA P9 forms for their KRA iTax returns.
GHRIS also offers this platform for other institutions like Banks, MFIs – Microfinance Institutions, SACCOS, Social Welfare Associations.
Use the following link to access the GHRIS Login Portal
Ghris Login Portal Registration Online
To register for GHRIS Online, you will need to have the following details
Your Government or relevant institution employment number or Personal Number
National ID Card Number
Date of First Appointment
Mobile Number
Personal Email
To access the GHRIS Login and registration Portal, just click on this LINK
How to Update GHRIS Profile Details in the Ghris Portal
Each employee is obligated to make sure they have uploaded the correct certificates and testimonials, starting from the Primary school certificates, Secondary and High school certificates, college certificates, professional certificates, employment letter, KRA Pin number etc.
The Public Service Commission reserves the right to demand the correct document from you.
👉To update your details in GHRIS Portal, just login to your account and click on the update details tab.
👉Fill in every empty box. (Make sure the information you fill is correct because giving of false information can lead to prosecution and dismissal depending on the seriousness of the offence e.g. forged document details)
👉Fill in the Birth Certificate No. This is important for security purposes. It should be filled in this manner (e.g. for an officer of the recruit course no. 2006 should fill out like, 1/2006).
👉You may encounter a situation where the institution you have studied at is not listed in the GHRIS system, just use the email provided by the system to notify the webmaster to add it into the system.
👉In case you were not employed before, fill in details of your current job in the employment history section. In case you had a promotion also include it.
👉Worry not about your spouse's/guardian's or child's Tax Pin and Birth Certificate No being requested in the next-of-kin section. If you don't have them, just use type 'N/A'.
👉When you've filled your profile completely, you can easily access your Ghris payslip. In case you have not successfully filled your profile, you will be prompted to 'UPDATE PROFILE FIRST'.
👉It is advisable to always view your Ghris Payslip using PDF.
Step by step procedure for Filling and Updating your Ghris Profile
Step 1: Personal Details
Fill all those dialogue boxes that have not been filled by the HR system.
treat your Birth Certificate No. with great importance here.
Fill N/A in the fields where you don't have details.
Step 2: Background Details
Leave alone the greyed out fields.
For home location use the 1992 demarcation since IEBC data of the latest demarcation has not been integrated with the system.
Step 3: Work Details
In paragraph form, fill in your current portfolio.
Step 4: Education Details
In the Ghris Website most of the schools are not listed. So, for primary and secondary school education, the important information to be populated is
Level of education,
Examining body,
Duration,
Country of study,
Date enrolled,
Year of graduation,
Certificate Number (Very Important) Give ALL the Certificates you have.
Step 5: Work/Job History
If you were employed before you joined the service, specify those jobs here.
If you were not yet employed, fill in your current employment.
For any promotion, these details should be populated in a different record.
Step 6:
You can change the information about Pension Proportion (%) any time. It is optional.
Forgot/Reset GHRIS Password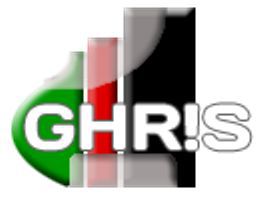 If you have forgotten your GHRIS Account Password you can reset it by following these steps
Click on this link Forgot/Reset Password to start the process
Fill the details required
After verification of the request the reset link will be sent to your email address
How to Download GHRIS Payslip Online
The government issues its GHRIS payslip online through the www.ghris.go.ke online Portal. Employees are then required to download it so as to access vital services like accessing bank loans. Check the procedure below.
Step 1: Access the GHRIS official website. ghris.go.ke
Step 2: Click on the Government of Kenya Employees link.
Step 3: To login, type your User ID and password you acquired after registration.
Step 4: The portal will open if the login details are correct. Click the 'Forgot your Password' link if you have forgotten your login password. You will need access to your email or your phone to confirm your identity for you to reset and get a new password.
Step 5: Click on 'My Records tab'
Step 6: Choose 'my payslip' option
Step 7: On the left side of the screen, select the payslip you want to view. For the current slip, select the present payslip link.
Step 8: On the newly opened page, the options for the month, year, and view payslip will be displayed.
Step 9: Click view payslip and wait for it to be displayed.
Step 10: Click on, "print payslip" to print the payslip.
Step 11: Select the printer of your choice and click OK to print.
GHRIS KRA P9 Form Download Guide
Login to the Ghris portal,
On the left-hand side, click on the P9 forms tab.
Select the year you want.
Click on the view P9 form tab.
If you wish to print the P9 form, click on the print button.
GHRIS Website, Ghris portal, www.ghris.go.ke Online
The official website for Government Human Resource Information System is www.ghris.go.ke
GHRIS Contacts, Google Map Location, Offices, Address, Phone Number,
Location: Harambee House, Harambee Avenue Nairobi
Telephone number: 020 2227411
Email Address: ghrishelp@gmail.com
Facebook Page: Facebook Page
P.O. Box 30095, 00100, Nairobi, Kenya
Harambee Avenue
Nairobi, Kenya
Telephone: +254 (020) 2223901-5, 2227471-5
Fax: +254 (020) 2214791
Mobile: +254-724-253807+254-724-253807, +254-735-800282+254-735-800282