Wetangula's full name is Moses Masika Wetangula. He was born on 13 September 1956 in Nalondo Division, Bungoma County.
Moses is a Kenyan politician. He was elected to the Senate of Kenya in 2013, representing Bungoma County, and became Minority Leader in the Senate.
Moses Wetangula Education Background
Wetangula went to Nalondo Primary School, then joined Teremi Secondary School and Friends School Kamusinga for A-Level education before being admitted to the University of Nairobi, where he graduated with a Bachelor of Laws (LLB) degree.
Wetangula's Political Career
He was nominated as a KANU MP after the 1992 general election, serving until 1997. He has held several other previous public positions which include that of a magistrate and the chairman Electricity Regulatory Board.
Wetangula represented Sirisia Constituency in the National Assembly from February 2003 until January 2013.
He served in the government of Kenya as Minister for Foreign Affairs from 2008 to 2010 and from 2011 to 2012, and he was Minister for Trade from 2012 to 2013.
In 2012, President Kibaki shuffled his cabinet. Wetangula left his post as Foreign Minister and became the Trade Minister.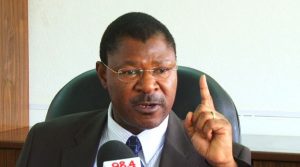 He was a member of the Board of Directors of ICROSS Kenya from 1989, stepping down when he became Kenya's Minister for Foreign Affairs.
Hon Wetang'ula, a resident of Mahungu Court along Karabon Road in Karen, Nairobi
Moses Wetangula Tokyo Embassy Scandal
Wetangula was accused of using Ksh. 1.6 billion to purchase a low-value land in Tokyo Japan for the Kenyan Embassy instead of accepting a free property from the Government of Japan.The Ksh. 1.6 billion had been obtained after sale of Kenyan Property in Nigeria.
Wetangula was told to step aside pending investigations to complete. George Saitoti served as acting foreign minister during Wetangula's absence. He was absolved of the allegations and returned to the ministry in August 2011.
In 2012 he was moved to the Ministry of Trade after returning from Mali where he had been holed up in a Hotel for several day after a Coup d'etat. He afterwards left the position to successfully contest for the position of Senator for Bungoma County.
Former Senate Minority Leader
After winning election to the Senate, Wetangula was selected to serve as Minority Leader of the Coalition for Reforms and Democracy. The Bungoma High Court nullified his election on 30 September 2013 and the Speaker of the Senate declared the seat vacant on 16 October 2013.
In a by-election held on 19 December 2013, Ford Kenya candidate Moses Wetangula recaptured his Bungoma senatorial seat with a landslide win after garnering 149,458 votes against his main contender Musikari Kombo, who got 81,016 votes.
David Makali secured 2,155 votes while Wakoli garnered 1,899 votes from a total of 942 polling stations, with a 57 percent voter turnout.
In March 2018, Wetangula was ousted from the Senate Minority Leaders post and replaced by James Orengo.
Moses Wetangula FORD Kenya, CORD
Senator Wetangula is the current FORD-Kenya Party Leader and CORD Co-principal. FORD Kenya is a constituent Party of the CORD Coalition.
These are Senator Wetangula predecessors as leaders of FORD Kenya
1ST. REGIME: Party Leader-Hon. Jaramogi Oginga Odinga-1992 – 20th. January 1994
2ND. REGIME: H.E.MICHAEL WAMALWA KIJANA, EGH, MP – 1994-23rd. August 2003
3RD. REGIME: HON. MUSIKARI N. KOMBO, EGH, MP – 2003 – March 2011
4TH. REGIME: SEN. MOSES M. WETANG'ULA, EGH- March 2011 TO DATE
Moses Wetangula parents
Wetangula's father Mr Wetangula is a retired teacher in Nalondo and lives in the village together with his wife
Wetangula Brother, Sister, family
The Wetangula's family is a political family with his brother Tim Wanyonyi being the Westlands MP. His other brother Fred Wetangula is a Nairobi Businessman. He also has a younger sister Emmeryncian Naswa.
Moses Wetangula wife
Moses Wetangula has several wives. The first wife is called Phyllis Wetangula but he does not live with her. The second one is a Bukusu lady who he married under the Bukusu traditional rites, had a child but neglected her forcing her to seek the court's orders to have him support the wife and their two children.
The third wife is Anne Wacheke Ngugi who was recently accused of battering her husband Moses Wetangula and accounts of his infidelity.
Moses Wetangula children
Wetangula's Children include his son Fidel Wetangula, Daughter Sheila Wetangula and Tamara Wetangula. He also has two children with his customary wife.
Wetangula Karen Home
Hon Moses Wetangula is a resident of Mahungu Court along Karabon Road in Karen, Nairobi
Moses Wetangula wealth, investments, business
Wetangula is a wealthy man. He owns property along Ngong Road in Nairobi. He also ha s some residual shares in Wetangula, Adan, Makokha & Company Advocates.
He is a farmer dealing with Dairy and Poultry farming.
Moses Wetangula age
Moses Masika Wetangula is 65 years as at 2021 having been born on 13th September, 1956