MMUST Student Portal Login – Email Account, www.mmust.ac.ke Website
MMUST Student Portal Login, How to activate Masinde Muliro First Year Email address, Student Portal Registration Procedure, Forgot Password, Reset Password, Email Account, www.mmust.ac.ke Website
To access your MMUST Student Portal Login Account, Kindly CLICK HERE
MMUST Masinde Muliro University KUCCPS Admission List for the Year 2023
KUCCPS Admissions Board has released the MMUST Masinde Muliro University KUCCPS Admission List for the Year 2023.
Follow this link to view the Masinde Muliro University KUCCPS Admission List 2023 and MMUST KUCCPS Admission Letters 2023 Download.
First Year Email and Student Portal Activation
As a First-year student, to access your email account, just click on the link below and find your email address in the PDF document you will download. Get your email address across your corresponding admission number.
DOWNLOAD YOUR EMAIL ADDRESS HERE
After you identify your allocated email address;
👉Visit www.gmail.com
👉Enter your email address; the one you have identified from list in the PDF document e.g.  if you see this 'BCM/B/01-00011/2016 gndirika@student.mmust.ac.ke' then 'gndirika@student.mmust.ac.ke' will use their corresponding email address
👉Under Password enter your MMUST email default password that has been provided.
👉Once logged in you will be prompted to change the password. Do so appropriately and remember the new password.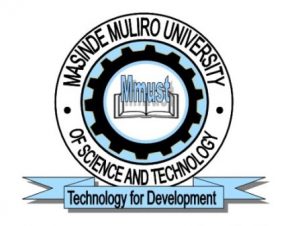 Forgot Password for MMUST Student Portal Login
If you have forgotten your MMUST Student Portal Login Password Click here
👉Then Enter your employee number or registration number and click "Email Link"
👉Instructions on how to reset and change your Password will be sent to your email address
After you are through configuring your email account, visit portal. mmust.ac.ke and click on 'create an Account', on the bottom right corner.
👉On the window titled Create Account, under the tab labelled 'Registration employee number' enter your Admission/Registration number
👉Under password, select a password of your choice and renter it on the next dialogue box to confirm
👉Click submit. (You will be notified that an activation code has been sent to your MMUST Corporate email.)
👉Visit your MMUST email address again and log in with your MMUST corporate email and password.
👉Under inbox click on the activation code to activate your account
MMUST ODEL Fee Structure, Application form Download Online, Programmes Courses Offered, MMUST eLearning Portal
To access the MMUST eLearning Portal Login click HERE
To view the Fee Structures for School of Open, Distance and eLearning, ODEL, programmes and Courses like PhD, Masters, Undergraduate Arts, Undergraduate Science, Nursing, Diploma in IT kindly CLICK HERE
Masinde Muliro University of Science and Technology, MMUST School of Open, Distance and eLearning, ODEL has intakes each year in January, May and September.
Some programmes do not admit students in all the three intakes. You will be informed of the date of the next intake for your programme.
To apply, click on the relevant link below. Download, print, fill in and submit your application. Once you have filled the form, submit it back using this email address "odel@mmust.ac.ke" .
MMUST ODeL MPESA Paybill no is 199990