Justice Lydia Achode Profile
Justice Achode's full name is Lydia Awino Achode. In the professional circles she is referred to as Hon. Lady Justice Lydia Awino Achode.
Justice Achode was born on the 25th June, 1962. She lives in Garden estate Nairobi.
Justice Lydia A. Achode Career
On 26th January, 2016, Justice Lydia A. Achode was appointed by Chief justice Willy Mutunga as the deputy judge of the anti-corruption and economic crimes division of the High Court. The division was established on December 11, 2015.
On September 6, 2011, Justice Achode was appointed to the bench as a Judge of the High Court. Prior to her appointment to the Bench she was the Registrar of the High Court of Kenya.
Prior to this she had been the Chief Court Administrator having been appointed to that position in the year 2004.
She began her career on the bench as a District Magistrate II (Prof.) at the Kericho Law Courts in 1986 and was promoted two years later to the post of Resident Magistrate.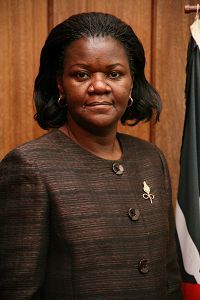 She was posted at Makadara Law Courts in Nairobi where she served in this capacity from 1988 to 1994.
In 1994 she was transferred to Mombasa Law Court as a Senior Resident Magistrate having been promoted. While there, her hard work and due diligence were again recognized when she was promoted to Principle Magistrate in the year 2000 and to Senior Principal Magistrate 2004.
Justice Lydia A. Achode is experienced in the areas of Civil and Criminal Law and Procedure, Commercial Litigation, Taxation Law, as well as Gender and Family Law having routinely adjudicated on these areas of law as magistrate for a period spanning over twenty years.
Her key competencies include; integrity, ethics, leadership, teamwork, training, recognition, communication and continuous improvement.
Justice Lydia Achode age
Justice Lydia Achode is 54 years old as at 2016 having been born on 25th of June 1962.
Justice Achode Family, Husband, Children
Justice Lydia Achode and is married with four children.