President Uhuru Is Seen Breaking Traffic Rules While Driving Citizen TV's Jacque Maribe at His Gatundu Ranch
The President decided to take Citizen TV's Jacque Maribe round his expansive ranch in Gatundu, Kiambu County. But Uhuru was clearly breaking basic traffic rule which caused Kenyans to get angry at him.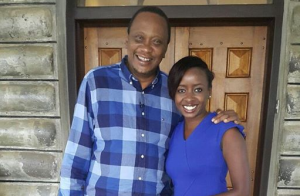 It seems the State House wasn't updated about the ongoing road safety campaign by the National Transport and Safety Authority (NTSA).
The highest office in the land conspicuously broke the first rule of traffic; President Uhuru was seen driving Jacque Maribe in his Gatundu ranch without wearing a seat belt.
The footage sparked public outcry from Kenyans the moment it surfaced online. The video was a promo of an interview the President had with Jacque Maribe.
Citizen TV did not run the story on Friday night as it has promised, the reason being that the "Events 2015" Citizen TV end of year series of programs would portray the President as a law breaker
Watch the promo below:
[wpdevart_youtube]nVn5zhlCqK8[/wpdevart_youtube]