Vera Sidika – Biography, Age, Tribe, Boyfriend, Net worth, Wealth
Vera Sidika was born on 30 September 1989 and raised in Mombasa. She is the first of three children and the only daughter in the family. She is also known as Vee S. Beiby
Vera Sidika is a Kenyan model who is famous for her incredible body forms. She gained her popularity after she appeared in P-Units video 'You Guy' that was released in 2012 but was banned in some TV stations for explicit content.
Vera Sidika is also a Kenyan television and social media personality, fashion model, video vixen entrepreneur and socialite.
She has been voted as one of Africa's top and East Africa's top video vixens. She is regarded as one of Kenya's most controversial ladies due to her extraordinary and lavish lifestyle and unique opinions about life in general.
In December 2015, Vera Sidika and other Kenyan social media personalities namely; fashion stylist Silvia Njoki, musician and actress Ella Ciru, NGO ambassador and student Gertrude Murunga, architect Kiki Diang'a, fitness instructor Marjolein Blokland and socialite and singer Pendo, starred in reality television series, Nairobi Diaries. The show delves into the ladies day-to-day lives.
Vera Sidika Education Background
From 2009, Vera Sidika attended Kenyatta University to pursue her degree in BA Art and Design. It is through this course that may be she realized that she can design her body to eke a living out of it.
Vera Sidika life history
Vera Sidika started off her career at the age of 17 when she modelled as plus size model where she participated in contests and fashion shows.
She later moved to Nairobi in 2009 where she joined Kenyatta University with an intention to pursue her studies in Art and Design; this gave her an opportunity to fully take her career to the next level.
Vera Sidika rose to fame in 2012 when she featured as the video girl in P-Unit's single "You Guy". This catapulted her career to greater heights as she got more In 2014, she appeared in Prezzo's single, "My Gal"
In November 2015, she appeared as a video vixen in Nigerian musicians KCSkiibii and Harrysong titled "Ebaeno".
Vera Sidika has also graced the The New York Post and BBC Africa platforms.
Vera Sidika bleaches her skin
In 2014, Vera Sidika accepted the fact that she had lightened her skin in the UK. But she refuted claims that the procedure used to bleach her skin was not safe and could affect her medically.
She shocked her fans when she said that the bleaching procedure cost her over ksh15 million. She says, "My body is my business and it is a money-maker.
Vera Sidika as a lead Star in Nairobi Diaries
In December 2015, Vera Sidika and other Kenyan social media personalities namely; fashion stylist Silvia Njoki, musician and actress Ella Ciru, NGO ambassador and student Gertrude Murunga, architect Kiki Diang'a, fitness instructor Marjolein Blokland and socialite and singer Pendo, starred in reality television series, Nairobi Diaries a show that airs on K24 TV.
The show delves into the ladies day-to-day lives.
In February, 2016, Vera Sidika quit and walked away from Nairobi Diaries. Vera made the announcement on Instagram, saying she will not be appearing in next season of the show.
"It's not a rumor, I am No Longer on Nairobi Diaries. Got my Mind made up. For those asking why it is my business questioning people about stuff; kindly ask the producers," Vera Sidika wrote.
"I do what I'm asked to cause its work at the end of the day but people judging & claiming u poking your nose on people business when it's not as it looks is sad," she continued.
"I now find the show a bit cheap. It has no direction. It is confusing. That is why I feel that I am not supposed to be there anymore," Vera Sidika added.
Just what is the truth about Vera leaving the show?
Those who followed the show about two weeks before her quitting recalled a showdown between Vera Sidika and fellow socialite Pendo. And it all went down to the two exposing their real emotions about a guy they have both had a thing for Davido, the Nigerian singer. This is the genesis of the breakup.
The two tried to outdo each other on camera saying how they had dated and even slept with Davido, a story that was broken by Pulse about two years ago after Pendo found her way into Davido's hotel room during his Nairobi tour.
Apparently, Vera Sidika had met Davido before and as rumours would have it, the two had a thing going on. Emotions flared during the Nairobi Diaries' filming as the two called each other names. It ended up in a fight.
"What many people don't know about the show is that it is not scripted, and when they (the producers) try to script it, that only comes out as a guiding sketch. On this day, everything went out of hand and I knew it would be a disaster to show some of those clips on TV," Vera Sidika told Pulse.
"I can't bring myself down to the level of Pendo. No. There are levels. How can I fight for a man with a little girl like Pendo?" she went on.
According to Vera Sidika, she asked the show's producer to show her the final edited piece before it went on air but that was never to be. Ideally, she was insisting that some of the scenes be edited out only to get the shock of her life when she saw it all raw on air.
"I was so shocked and I found it rather malicious on the part of the producer to do that. It was meant to make me look bad as that is what Pendo had been pushing for. I couldn't stand imagining that the entire team had betrayed me. With that, I left the show," she told Pulse.
Vera Sidika vs Huddah Monroe
The saga of Vera Sidika and Huddah Monroe is rather perplexing. Social Media pundits say their constant beer may be a ploy between them to make sure they remain relevant in social media and in the blogs. They want bloggers to constantly write about them which is good for their (Vera and Huddah) businesses.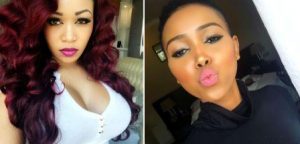 In February 2016 Huddah Monroe and Vera Sidika took many by surprise after they ended their perennial beef going on to open up about their undying desire to smash each other but strangely in April 2016 Huddah wanted to slice open Vera's throat!!! In this new twist of events, Huddah Monroe took to the social media to threaten Queen Vee and called her all sorts of names.
Huddah Monroe attacked Vera Sidika's bleached skin saying she used River Road concoction to lighten her skin. She claims Vera Sidika's skin had been adversely affected that's why she couldn't walk in bright sunlight.
Watch the clip below to see how Huddah Monroe mauled Vera Sidika on social media:
https://www.youtube.com/watch?v=Z9AbSQjrqm4
Vera Sidika and Huddah Monroe have always tried to outdo each other in public as to who is the hottest socialite in Kenya.
Vera Sidika Fights With Nigerian Actor Mike Ezuruonye
Vera Sidika was driving Nigerian actor Mike Ezuruonye crazy with her big behind as seen in a music video they have shot together.
In March, 2016, Vera Sidika sure did drive the celebrated TV star crazy with her insults after a popular SDE a Kenyan tabloid apparently said that Mike Ezuruonye would choose Huddah Monroe over Vera Sidika any day.
So Vera Sidika caught feelings that the guy they've worked with, actually talked smack about her, so she decided to reach out to Mike and the conversation went like this; Read the conversation in the photos below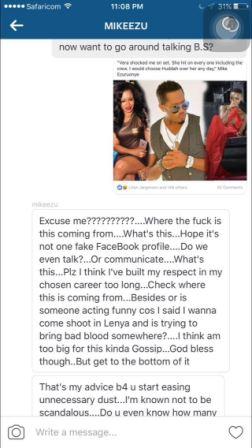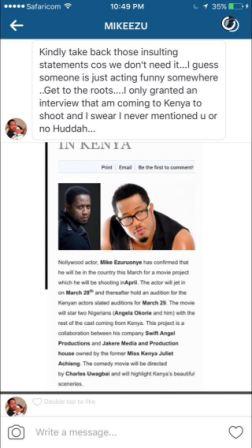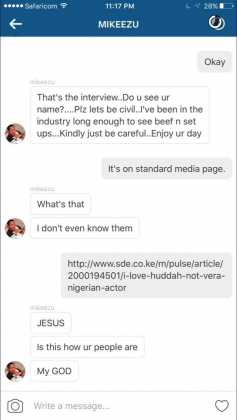 Huddah Monroe also put in her two cents on this and here's what she said;
Just read about that hot Nigerian actor. I love you too Mike. See you soon.
Vera Sidika Businesses
Vera Sidika is famed for posting photos of her voluptuous backside on social media. Vera charges range is about $2,500 (Sh217,000) per hour in events, but its very negotiable when it comes to music videos, where she claims that she even get more than that.
Vera Sidika owns an online shop where she sell clothes that goes by the domain http://www.veescollection.com/
She has been tricked online and on social media into agreeing to get intimate with rich foreign men in exchange for money. So it is assumed that when she makes her foreign trips she goes to meet her 'sponsors' in exchange for huge sums of money.
Vera Sidika Wealth, Houses, Cars
In her earlier days Vera says she used to live in a bedsitter in Kahawa Wendani for Ksh. 3,500 monthly. It was the Living Room, Dining, Bedroom, Kitchen, Bathroom all in one squeezed space. Right now she boasts of having a super house

Vera's new house in Kitisuru Nairobi

She has a number of expensive German cars and today we will focus on her BMW X5 it retails at around sh6.5 million and it has 300 – 400hp.
Vee S Beiby getting out of her Mercedes Benz convertible
Vera owns a Penthouse where she lives in Kileleshwa and also has land in Kilifi.
Video of Vera Sidika Showing off her expensive home in Kitisuru Nairobi
Vera Sidika Contacts
Instagram: https://www.instagram.com/queenveebosset/?hl=en, (@queenveebosset)
Twitter: @vee_beiby