Sheila Mwanyigha – Biography, Boyfriend, Tribe, Contacts
Sheila Mwanyigha full name is Sheila Mkabili Mwanyigha. She is a Kenyan Radio and Television show host. She currently works as a TV English News anchor with Ebru TV. She is a Taita born media darling.
Before joining Ebru TV on June 1, 2016, Sheila Mwanyigha was a show host with NTV's AM Live which aired between 6am to 9am from Monday to Friday. Her co-host was Kobi Kihara.
Sheila has a Master of Arts in Sociology (Medical Psychology) Degree from the University of Nairobi. She graduated in 2014.
Sheila Mwanyigha Job History
Sheila Mwanyigha had worked with Kiss FM before moving to Easy FM in the Nation Media Group. She also did jobs at  Studio 53 for DSTV, and Big Brother Africa
Having joined the Nation Media Group as a radio presenter in Nation FM, she moved on over the years to manage radio shows and production as well as host the morning show on NTV, and later do TV production.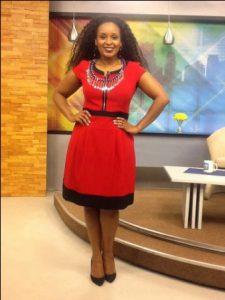 Sheila hosted several seasons of Tusker Project Fame (TPF) singing competition show for several years. Her achievements in the various positions she held at NMG include heading Easy FM (now Nation FM) at the time it aired Ciku Muiruri's popular Busted segment in the morning show.
Sheila Mwanyigha had been with Nation for 11 years and was  a big face on the TV where she hosted the AM live alongside Kobi Kihara. Sheila left NMG in September, 2015.
Sheila Mwanyigha shared that she was glad that after 11 years at NMG, she had left a better and more skilled person than she joined.
Sheila Mwanyigha boyfriend
Sheila Mwanyigha, before joining radio and subsequently TV, was popular artist performing under the pseudo name, Nikki. In her day, she was rumored to have had a thing with rapper CMB Prezzo who was at the peak of his career.
Sheila Mwanyigha says she had an accident which affected her facial beauty. She has a scar near the eyebrow of her left eye A car crash left me with this scar from 19 stitches.
Sheila Mwanyigha back in 2013, opened up about her life as Rashid Abdalla (Lulu Hassan's husband) girlfriend. She was speaking to Rashid Abdalla on his segment, 'Swali Moja'.
Sheila Mwanyigha was deeply in love with the Rashid Abdalla. She didn't imagine for a second that she could be the other lady in the relationship. Rashid was her first love, everything was running smoothly until he traveled abroad for further studies.
Upon his return, Sheila realized Rashid Abdalla had changed, he was mean with his love to her. She told Rashid she truly loved the guy but had to let him loose after she realized there was another woman in his life.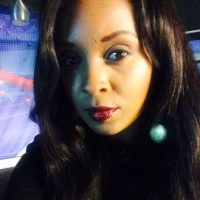 Asked whether the experience is what made her do the song, "Niwe Wako Milele", Sheila is quick to refute the assertion pointing out that the song is true story of yet another story of love-gone-sour.
"Ehe heh! Io sasa Rashid ni ngumu!" starts Sheila Mwanyigha, adding, "Nilikua na mtu nilimpenda sana na alinipenda pia lakini vile alikua ananipenda si vile nilikua nataka anipende…kuilikua na mwingine." Sheila goes to reveal that she sincerely loved the guy but there was another woman in his life. In her words, "I was not the first choice," adding, "Na ni maisha, you will not always be the first choice."
Rashid then wishes her well in finding 'the one' upon which she laughs it off and maintains that as long as she's the first choice, she doesn't mind. 'Swali Moja' is a segment on Taarifa Za Magharib at 6:30PM every weekday on QTV and at 6:30AM on QFM brought to you by Rashid Abdalla.
Sheila Mwanyigha Video
Sheila Mwanyigha Contacts
Twitter handle: @MissMwanyigha
Twitter site: https://twitter.com/MissMwanyigha
Facebook: https://www.facebook.com/Sheila-Mwanyigha-226977800686749/
Instagram: https://www.instagram.com/sheilamwanyigha/?hl=en