Jeff Koinange Biography
Jeff Koinange full name is Jeff Mwaura Koinange. He was born on January 7th, 1966 in Kiambaa village in Kiambu County. He is a Kenyan award-winning journalist and Jeff Koinange Live (JKL) talk show host on KTN.
He has previously worked at CNN, NBC News, ABC News, Reuters T.V. KTN and K24. He was CNN's Lagos Bureau Chief for five years before becoming the Network's Senior Africa Correspondent in Johannesburg.
Jeff Koinange is the author of his autobiography book titled 'Through My African Eyes'
He currently hosts a Country Music country Radio Show On Nation FM on Sunday from 5-7 PM.
Jeff Koinange Education Background
Jeff Koinange first went to Hospital Hill School in Parklands from 1972-1974. In 1975, he changed schools and went to St. Mary's where he did his A-Levels in 1984.
Jeff Koinange joined Kingsborough Community College in Brooklyn, New York where he studied Broadcast Technology and Management.
He graduated top of his class (with honours) and got a scholarship to study at the prestigious New York University. He graduated with a Bachelor of Arts Degree in Broadcast Journalism in 1991.
Jeff Koinange Job History
After high school in St Marys Jeff was recruited as a flight attendant for Pan AM World Airways in 1986. It was while he was there, flying the 'friendly skies' for a year and a half, that he discovered his communication 'talent'. When he did announcements on the plane, passengers applauded every time saying they loved his voice as well as how he did the announcements.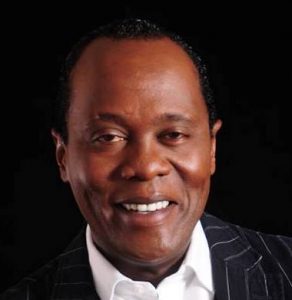 At this point he quit the airline and joined journalism classes in Kingsborough and later New York University.
In 1995 Jeff Koinange Joined KTN as a part time news anchor as well as a Reuters Correspondent in Nairobi. As a news anchor in KTN some people did not like his American Accent but others liked it.
In 1998 Jeff Koinange was appointed Reuters West Africa Bureau Chief located in Ivory Coast but later relocated to Johannesburg, South Africa.
Jeff Koinange's big career break came in July 2001 when CNN was 'shopping' for a bureau chief for their office in Lagos, Nigeria. He took the position and worked for CNN in Lagos and Johannesburg, South Africa for six years where he served as Senior African Correspondent until May 2007.
In November 2007 Jeff Koinange joined K24 TV until December 2012. Here he hosted a popular Show called 'On the Bench'
From January 2013 – August 2013 he joined ARISE Television in Johannesburg Area, South Africa and after 8 months in September 2013, he came back to Kenya to become the E.A. Bureau Chief a position he holds until now.
Also from September 2013, he hosts the popular Talk Show Host Jeff Koinange Live (JKL) on KTN Wednesday and Thursday's from 10PM.
Jeff Mwaura Koinange currently hosts a Country Music country Radio Show On Nation FM on Sunday from 5-7 PM.
Jeff Koinange Awards Won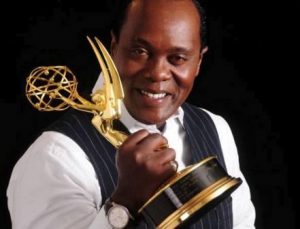 Moran of the Burning Spear, 2007- Awarded by President Mwai Kibaki for his contribution to Journalism in Kenya and Africa.
First African to ever win a TV EMMY for a story he did on famine in Niger, West Africa (2005)
George Forster PEABODY Award for coverage of Hurricane Katrina in New Orleans, USA (2005)
Prix Bayeaux for War Coverage- for a story he did on rape victims in the Democratic Republic of Congo (DRC) (2006)
Jeff Koinange significant stories covered
Liberian Civil War (2001-2003)
Civil war in Sierra Leone (1999-2002)
The fall of Mobutu and the rise of Laurent Kabila in the DRC (1997), Laurent Kabila's Assassination and Funeral (2001)
The war on terror in Baghdad, Iraq (2004/2005)
Hurricane Katrina, New Orleans, USA (2005)
Niger Delta rebels in Nigeria (2006/2007)
Senator Obama's visit to Kogelo, Kisumu (2006)
Nelson Mandela ending his one and only term and giving way to Thabo Mbeki (1999)
The war in Darfur, West Sudan.
The war in Mogadishu, Somalia
Jeff Koinange extended Family
Jeff Mwaura Koinange is the Grandson of the legendary Senior Chief Koinange. He is also a nephew to his grandfather's eldest son, Peter Mbiyu Koinange who was exiled in Britain following the declaration of the State of Emergency. Peter Mbiyu Koinange was the first Kenyan African to receive a Master's degree. He had received the Masters degree at Columbia University in New York.
Jeff Koinange nuclear Family
Jeff Koinange's father Frederick Mbiyu Koinange was one of the sons of the Gikuyu tribe's most famous chiefs, Senior Chief Koinange wa Mbiyu (from the third of his six wives).
Right before the declaration of the State of Emergency, Jeff Koinange's father Frederick Mbiyu Koinange met and fell in love with a lady called Hilda Wambui Ngoima. Hilda was the first-born child of a wealthy and progressive farmer, Mwaura-wa-Ngoima from Githiga Village in Githunguri.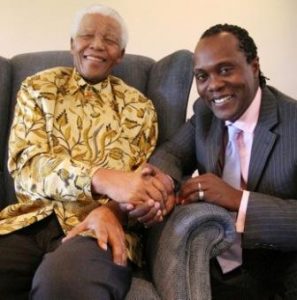 His father had proposed and paid the customary dowry to the 'house of Ngoima'. But before he could marry Hilda, he was arrested and detained. Hilda could not take it any more and she eloped with another man.
While Hilda was eloping, her sister who then became Jeff Koinange's mother was training to be a teacher. Jeff's mother began writing letters to her sister's former fiancée. Jeff's father apparently found it odd at first receiving her letters but wrote back and told her about life in detention in Manyani.
The casual letters turned into a love affair, all on paper and Jeff's mother still has most of that correspondence. She visited him several times while in detention which only heightened their affection. By the time Jeff's father Frederick Mbiyu Koinange was released from detention seven years later, he and Jeff's mother were quickly engaged and later married in a lavish ceremony on December 12th, 1959.
Jeff Koinange was born on January 7th, 1966 and exactly two months later, his dad died of a brain hemorrhage. Her mother was 28 years old.
From then Jeff and his siblings were brought up by their mother, a former headmistress and strict disciplinarian in Kiambaa village near Banana Hill in Kiambu County.
Jeff Koinange Brothers and Sisters
Jeff Koinange's eldest and first born sister is Hilda Wanjiru followed by other sister, Phyllis Wangui, then his brother, Freddie Koinange. Jeff Koinange is the last born.
Jeff Koinange wife Shaila Koinange
Jeff Koinange is married to Shaila Koinange and a father of one; Jamal Mbiyu born in 2007. He first met his current wife in 1986 when they both went for interviews to be flight attendants with the Pan Am airline at Nairobi Safari Park.
He married her in 1998 after divorcing his first wife Sonya in 1994.
Jeff Koinange first wife Sonya
Jeff Koinange had fallen in love with a Panamanian lady and their flight instructor called Sonya; they got married in 1988 and parted ways in 1994.
He described their "non-stop sun, sea and sex" in Monrovia whenever they had a break from the airline and said the ex-wife would forever remain special for the rest of his life. They parted ways after he caught her red-handed in bed with another man.
Jeff Koinange and Marianne Briner Mattern saga
When Jeff Koinange left CNN in May 2007, his sudden departure was widely blamed on the contents of a steamy email correspondence with a former confidante Marianne Briner Mattern.
Marianne Briner, then a 66-year-old Swiss businesswoman, has waged a campaign to 'expose' Koinange, publishing email exchanges between the two of them on a blog.
Marianne Briner sent a complaint to Jeff Koinange's boss at CNN's Atlanta HQ, claiming Koinange had admitted to bribery and hoaxing an exclusive report from Nigeria rebel ridden oil rich Niger Delta.
She attached an email from Koinange to her which read: "Of course we had to pay certain people to get the story… You do not get such a story without bribing."
The report, aired in February, 2007 showed Koinange being surrounded by masked gunmen in speedboats – described as rebels with the Movement for the Emancipation of the Niger Delta – who later took him and his crew to a group of Filipinos who they were holding hostage. It sparked outcry from the Nigerian government which claimed Koinange had paid some people "to put on a show".
Jeff Koinange denies the allegations – "How do you stage that? It's not Hollywood here." But he admitted his communications with Marianne Briner had been "an obvious error in my judgment".
The six-month email correspondence between Marianne Briner and Jeff Koinange, who lived in Jo'burg with his pregnant wife, started after he contacted her last year over a book she had co-authored. Briner had written of alleged corruption and murder among Kenya's political elite.
Marianne Briner appeared two years ago as a star witness at a Kenyan government inquiry into the 1990 murder of the country's foreign minister, Dr Robert Ouko, whose charred remains were found on Got Alila hill near his home.
She said her company, BAK, won contracts for government-run projects in Kenya in the 1980s and that a dossier on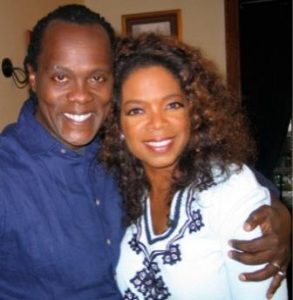 corruption she has compiled from that time has left her in fear for her life.
Jeff Koinange acknowledged Marianne Briner's story had potential: "I knew it was going to be controversial and it was going to be hot… and that it could make a good story."
But plans to air the story broke down when Marianne Briner and Jeff Koinange fell out after they finally met in February in the lobby of a hotel in London.
Briner says that by the time they met, their correspondence was no longer just about her story. "Things changed to very personal and private matters." Koinange had sent her private photographs, including one of him with Nelson Mandela.
Jeff Koinange said the London meeting to discuss Briner's book was businesslike. "We had a drink in the hotel lobby and left it at that."
Marianne Briner said Jeff Koinange fell in love with her, and she started a now-defunct blog in which she published the emails that passed between her and Koinange.
In an email sent before the pair met, Koinange wrote: "You've been wined and dined by the highest and mightiest of all… and then little old me comes along and makes you go crazy." Briner replied: "One day you will have to fulfill all my dreams and my promises – does that not scare you?"
Jeff Koinange said he had told Marianne Briner he could not guarantee CNN would run a story on her book. "Obviously she saw publicity wasn't going to come as quickly as she wanted… It was a vindictive sort of thing that she wanted to expose our communications," he said.
Marianne Briner said: "I do not like to be cheated and I don't like cheating – that's when I fight back." She also said while she may have played a hand in Jeff Koinange's departure from CNN, she cannot be held totally responsible for it: "My letter [to CNN] was the last nail in the coffin – but the coffin was already prepared."
About Marianne Briner, Jeff Koinange said: "I tried to help, but now someone's taken complete advantage and tried to destroy my career at the same time."
Jeff was unceremoniously sacked from CNN and returned to Kenya.
Jeff Koinange house raided by thugs
In April 2016, Robbers broke into Jeff Koinange's house in Kitisuru at 2am and stole electronics. The burglars, according to police, tied up the watchman and entered the house.
The thugs, whose number is unknown, were armed with guns and shot once in the air as they escaped from the home. He said an alarm in the house went off, causing the gangsters to flee.
Jeff Koinange arrested for contempt of court
In May 2015, Jeff Koinange was arrested for failing to appear in court. Jeff Koinange, alongside businessman Tony Gachoka were directed to appear before the magistrate after he was arrested and released on allegations of defying a court order.
Jeff Koinange and Tony Gchoka's tribulations were as a result of a dispute with businessman Jimmy Wanjigi, Sani Mbui Wanjigi and Kwacha Group of Companies Limited.
The dispute started in March 2015, when the complainants obtained orders against Jeff Koinange, KTN and the Standard Media Group restraining them from broadcasting or publishing defamatory statement concerning them and the company.
Despite serving the order, the three complained that Jeff Koinange invited Tony Gachoka on his "Jeff Koinange Live" talk show on April 1 and went ahead to discuss what they were barred from broadcastingJ
Jeff Koinange's wealth
Other than being one of the most generously compensated radio and TV have in Kenya, Jeff, who purportedly pockets a six-figure pay, has utilized his monetary muscle on different occasions.
From cruising in one of the first Mercedes G Wagons on Kenyan streets to sprinkling Sh1.3 Million on a watch for his co-moderator Jalang'o, Jeff lives expansive.
Furthermore, on Monday, he at last uncovered his total assets saying it's over Sh 50 Million.
With a house in Kitisuru and a craving for extraordinary imported Cuban stogies said to be worth over Sh 500,000, Jeff may have played safe with his enormous disclosure.
We are eager to wager he is worth substantially more
Jeff Koinange profile Video
Jeff Koinange Contacts
Facebook: https://www.facebook.com/koinangejeff/
Twitter handle: @KoinangeJeff
Twitter site: https://twitter.com/KoinangeJeff
Instagram: https://www.instagram.com/koinangejeff/
Linkedin: https://www.linkedin.com/in/jeff-koinange-42a19a33