Larry Madowo – Biography, NTV, Girlfriend, Salary, Age
Larry Madowo was born 14 July 1987 in Barding village in Siaya County. He is the Online and Technology Editor as well as News Anchor at NTV Kenya. He is a broadcast journalist, writer, blogger, and technology evangelist. He anchors the popular Friday night show #theTrend and NTV Weekend Edition.
He also hosts The Larry Madowo Show on Nation FM and writes a Tuesday column in the Daily Nation's DN2 pullout called #FrontRow
Larry Madowo Education History
Larry Madowo went to Karapul Primary School in Siaya and did his KCPE in 2000. In 2001 he joined St Gabriel's Seminary School in Kisumu until 2004. At this Junior Seminary his dream was to become a Priest.
In 2006, Larry enrolled for a communications degree at Daystar University in Athi River Machakos County near Nairobi. Due to University fees problems he dropped out of University.
Larry Madowo returned to college and graduated with a Bachelor of Arts in Communication degree from Daystar University.
Larry Madowo Job History
Away from the journalism field, Larry Madowo worked for her aunt called Victoria in a restaurant in Gikomba market in Nairobi where he would hawk tea and 'Mandazi' to other business people.
In 2007, Larry Madowo interned for a Naivasha based vernacular radio station Bahasha FM reading news in English. The Station was owned by John Mututho Chairman of NACADA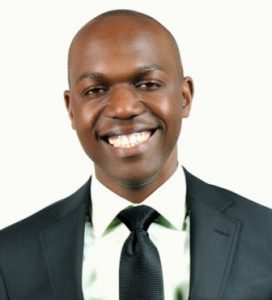 After the 2007/2008 post election violence the station was closed and he was rendered jobless.
Afterwards in 2008 he joined KTN as a Trainee Reporter. Afterwards he launched and anchored Kenya's first daytime business programme KTN Financial Markets Live as well as KTN Business Today. He also pioneered the use of social media on Kenyan television and was responsible for the formation of the KTN Kenya Facebook and Twitter pages before any other media house in the country had a social media presence.
After 3 years, in October 2010, he left KTN for NTV, where he was the business news Anchor, Reporter and editor. Here he launched the critically acclaimed PM Live and hosting the weekly magazine show Money Matters.
In May 2012, Larry joined the South African based CNBC Africa as one of the main anchors and pioneered the show "Eye on Kenya" which airs on prime time. His stay at CNBC Africa only lasted a few months and in December 2012, he went back to NTV as the technology editor and news anchor.
Larry Madowo brushes Raila Odinga the wrong way
In 2016, after the former Prime Minister released the much awaited Eurobond dossier, Larry Madowo sent out a tweet terming the list as "nothing more than a fart".
"Show of hands, who else was expecting an explosive list from Raila Odinga and all we got was nothing more than a fart?" he posed.
His tweet sparked outrage from CORD supporters who called for his immediate dismissal from NTV arguing that he lacked the objectivity expected from a journalist.
Larry Madowo later deleted the tweet and apologized for his offensive remarks.
"I apologize for my explosive Eurobond tweet and I've deleted it," he said on Twitter. "The responses have degenerated into a tribal war & that wasn't my intention."  But CORD supporters are having none of it.
Through his Front Row column, Larry Madowo said that he has received threats to his life. "I was insulted in every way possible by thousands on social media and there were more than a few credible threats to my life which I will be reporting to the police. Several people even promised physical violence should I show up at certain places. I was accused of having been paid by Jubilee to tarnish the name of Baba"
He also highlights a series of insults directed at him by Raila's supporters and says that he has learnt that Raila Odinga is not to be contradicted by a fellow tribesman.
"What I learnt is that the former prime minister is not to be contradicted, especially by a fellow tribesman, at all costs. CORD bloggers, supporters and just about everyone with an O name condemned me in the strongest terms possible," he wrote.
Larry Madowo Mother Treazer Anyango Madowo and Sister Liz Madowo
Larry lost his dad in 1994 when he was 7 years old. His mother, Treazer Anyango Madowo, was a primary school teacher and a divisional Knut official who enthusiastically took part in the 1997 strike. She rallied her colleagues to go out onto the streets following a strike directive from the then KNUT officials John Katumanga and Ambrose Adongo Adeya,
Treazer Anyango Madowo died in 2001 leaving Larry Madowo and his only sister and sibling Liz Madowo orphans who had to fend for themselves.
His sister Liz Madowo is now a graduate of Moi University and is a stylist as well as a fashion blogger.
Larry Madowo girlfriend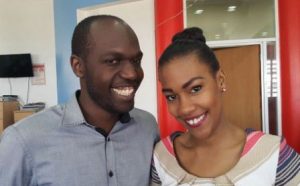 Larry Madowo is not married and he insists he does not have a girlfriend. Sometimes ago it was rumoured that he and NTV colleague Victoria Rubadiri were an item but they both downplayed the rumours.
Larry Madowo wealth, Salary
Madowo is rumored to be earning something close to Ksh.500,000 per month. Apart from his salary, there are other perks to his job such as flying to foreign countries on assignment under the bill of Nation Media Group.
He is also an MC and also graces corporate events in Kenya and abroad.
Larry Madowo Drunk Video
Larry Madowo Profile Video
Larry Madowo Contacts
Website: larrymadowo.co.ke
Twitter Handle: @LarryMadowo
Twitter site: https://twitter.com/larrymadowo
Facebook: https://www.facebook.com/LarryMadowo/
Instagram: https://www.instagram.com/larrymadowo/?hl=en