RAILA'S Daughter WINNIE reveals that RAILA may not run for presidential elections 2017
Even as CORD principals continue to marshal support from their strongholds to boost them during the CORD nominations for the coalition's flag bearer ahead of 2017, with both Luos, Kambas and Luhyas vowing to nominate one of their own for the CORD ticket, it has now emerged that former Prime Minister Raila Odinga may never be on the ballot.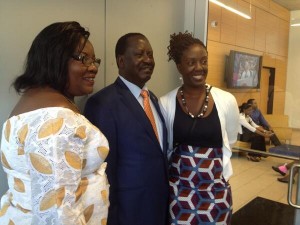 This was revealed by his daughter, Winnie Odinga, on KTN yesterday, where she had appeared as a guest anchor.
Winnie noted that her dad may sacrifice his Presidential ambitions for the greater good of the country.
She indicated that the former PM may opt to support former Vice President Kalonzo Musyoka for President if that will be best for Kenya.
"It doesn't have to be Raila on the ballot gunning for the Presidency. It could be anybody, even Kalonzo. My father is a kind of a guy who can sacrifice his ambitions for the greater good, because he has always wanted the best for Kenya," said Winnie.
Nonetheless, Winnie said she would support her dad if he chooses not to support Kalonzo but himself for President in 2017.