VIDEO of  Saint Patrick Ponce Mahele the man who has been having S3x with Senator MOSES WETANGULAS wife ANNE WACHEKE NGUGI
There is no doubt that the marriage between Bungoma Senator Moses Wetangula's and the beautiful Anne Waceke Ngugi is headed for the rocks.
Just last weekend, information leaked that the two beat the hell out of each other after the Senator accused Ann of infidelity.
Wetangula accused his second wife of sleeping around with other men behind his back, something that infuriated Ann leading her to batter the Senator badly and leaving him with a swollen face.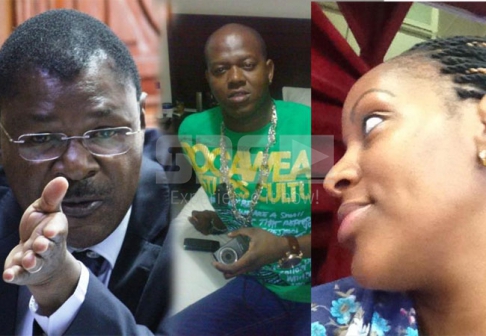 Wetangula reported his wife to the police at Langata Police Station before seeking medical attention over his head, neck, leg and hand injuries that she inflicted on him.
Ann also showed up at the police station with minor injuries claiming that she had been beaten by the Bungoma Senator.
But who is this beast of a man who has been screwing Wetangula's wife behind his back despite all the money that the Senator has to buy her anything she wants?
Well, it can now be authoritatively reported that the man rocking Wetangula's marriage is Mr. Saint Patrick Ponce Mahele, a Congolese national who is also a music producer.
Patrick, who is now rotting at Industrial Area Remand Prison for conning Ann of millions of shillings through fake deals, has been having s*x with Wetangula's wife since 2014, and is said to be better than the poor Bungoma Senator that's why Ann loves him.
Watch the video below of Patrick with another lady called Venessa in a room