Ex-KTN's News anchor Louis Otieno suffering from alcoholism and Sex addiction
Sometime back, Louis Otieno, was one of the most sought after male anchors in the media industry. He was respected for doing his job professionally but things went south after fame got into his head.
The once disciplined anchor started indulging in alcohol and sleeping around with other people's wives and young University girls who offered their bodies freely to him.
On weekends, Louis Otieno would camp in clubs drinking himself silly while enjoying the company of gold-diggers who were only interested in his money.
Alcohol reduced Louis to a zombie and his life is now totally messed up.
According to sources close to the former anchor, he has been in and out of rehabs for the last five years.
The friends who would hang around with him when he was the king of the screen have deserted him.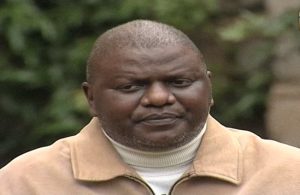 Nowadays, the once celebrated anchor lives with his mother as he struggles with alcoholism.
His family members are worried because alcoholism messed up with his health and he has taken longer than expected to get back on track.
Sometime back, Louis Otieno was admitted at The Mater Hospital for almost a month and Kenyans were shocked to see him looking old and sickly.
According to snoops, the former anchor, who used to earn a six figure salary, was squandering his money with women when he was financially stable.
Louis Otieno had not invested in any project that would benefit him incase he lost his job.
The Range Rover that he was cruising around with in the city picking young ladies from University of Nairobi for s3x was sold at a throw away price to cater for his hospital bills.
We wish Louis Otieno quick recovery.
Louis Otieno Girlfriend late girlfriend Careen Chepchumba
Louis Otieno had a girlfriend called Careen Chepchumba. He is suspected to have murdered her in 2012. Louis was living large from money given to him by Careen Chepchumba.
Louis Otieno has been accused of coercing his late girlfriend Careen Chepchumba to borrow hefty amounts of money to fund his lifestyle.
Hosea Kili, Chepchumba's father, in a testimony in court, said the daughter incurred a Sh3 million debt, monies she spent on Otieno's rent, medical expenses in Nairobi Hospital and in South Africa.
Kili told the court that his daughter also bought Louis Otieno a Range rover after trading in her VW car.
The court also heard that before she was killed, Chepchumba sought restraining orders against Otieno for allegedly harassing and threatening her.
Careen Chepchumba one day took Sh600,000 from her father's briefcase and when confronted, she said that she had given Sh400,000 to Louis Otieno for his medical expenses.
The court further heard that she had earlier on moved out of her parent's house to her own apartment, even lying to the family that the house was in Amboseli yet not very far from their home.