Kyengo Katatha Maweu – Biography, MP Kangundo Constituency, Machakos County, Wife, Family, Children, Age, Wealth
Kyengo Katatha Maweu profile
Kyengo Katatha Maweu was born on 1st January 1949 in Kangundo, Machakos County. He is the MP for Kangundo Constituency in Machakos County.
He was elected to the 11th Parliament on The Independent Party (TIP) in the CORD Coalition in March 2013.
In the National Assembly he is a member of the Public Accounts Committee since April 2015. This was a new Committee after the previous one was disbanded following allegations of corruption by its Chairman Mr Ababu Namwamba.
Maweu Kyengo Katatha has spoken 30 times in Parliament since March 2013.
Kyengo Katatha Maweu is perceived to be Johnstone Muthama's stalwart and by extension Kalonzo Musyoka's supporter.
Kyengo Katatha Maweu Changed his name from Peter Katatha Maweu in 13th November 1987.
Kyengo Katatha Maweu defends Francis Nyenze Ouster as CORD Minority Leader by ODM
In April 2014, Wiper members of parliament from Ukambani came out fighting and strongly defended CORD's Minority leader in the National Assembly Francis Nyenze. They cautioned their ODM colleagues against pushing for the replacement Nyenze terming it a threat to the unity of the Coalition.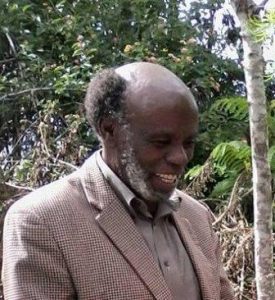 The MPS warned that removing the Wiper legislator from the seat could mark the "collapse" of the CORD coalition headed by former Prime Minister Raila Odinga with Wiper's Kalonzo Musyoka and FORD Kenya's Moses Wetangula as principal partners.
The leaders who include Katatha Maweu (Kangundo), Patrick Makau (Mavoko),Kisoi Munyao (Mbooni),Stephen Mule(Matungulu),Francis Nyenze (Kitui West) and Women Representatives Dr.Susan Musyoka (Machakos) and Nyiva Mwendwa(Kitui) said the seat belongs to Wiper.
Kyengo Katatha Maweu, the man with the receding hairline and white beard
In 2013, When the National Assembly Speaker Justin Muturi sat for the start of official business in the House, he realized that he was facing a significant problem.
About 252 of the 349 MPs are in the National Assembly for the first time. A majority are young and not used to the procedures – Standing Orders – on which affairs are conducted. He also did not know them by name.
On one Thursday, he singled out Kangundo MP Kyengo Katatha Maweu by referring to him as "the man with the receding hairline and the white beard" which sent the whole house to a prolonged laughter.
Kyengo Katatha Maweu contacts
Phone: 0735417227