Khatib Abdallah Mwashetani – Biography, MP Lunga Lunga Constituency, Kwale County, Wealth
Khatib Abdallah Mwashetani profile
Khatib Abdallah Mwashetani is the MP for Lunga Lunga Constituency in Kwale County. He was elected to the 11th Parliament in March 2013 on a FORD Kenya ticket.
Khatib Abdallah Mwashetani education Background
Khatib Abdallah Mwashetani attended Shimo La Tewa High School upto 1992 then Kwale High School when he did his KCSE in 1994. He then joined the University of Nairobi in 1996 and completed his Bachelor of Commerce course in 1999.
He joined Bandari College for his Diploma in Liner trade, Port operations and Marine law and completed in 2000
Khatib Abdallah Mwashetani career
In 2002 Khatib Abdallah Mwashetani started Manizle Ltd and became the director.
In 2013 he was elected to the 11th Parliament on a FORD Kenya ticket as the Member of the National Assembly representing the people of Lunga Lunga Constituency in Kwale County.
In September of 2013, Khatib Abdallah Mwashetani lost his MPs seat after Judge Vincent Odunga ruled that there were irregularities that questioned the credibility of the poll. A by-election was inevitable but in November 2013 he reclaimed his seat again.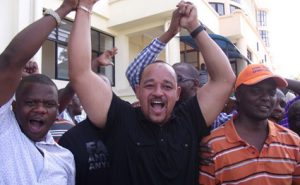 Khatib Abdallah Mwashetani took the oath at 11.30pm on the last day of Parliament's sittings for the year. Khatib Abdallah Mwashetani was not the first MP to take the oath late into the night. When the 10th Parliament met for the first time on January 15, 2008, the oath for the MPs was administered late into the night.
In the National Assembly he sits in the Departmental Committee on Environment & Natural Resources and also in the House Business Committee.
Khatib Abdallah Mwashetani political Challenges
Khatib Abdallah Mwashetani chief campaigner Kassim Pojo rebelled against him and announced he would be vying for the seat in the next general elections. The MP is reportedly a worried man as Pojo is a custodian of many secrets.
A section of voters claim he does not hail from the constituency, accusing him of not even having a home in the area. They further claim the house he began to build when he was seeking for votes, he later sold it immediately he got elected to parliament and since then, he has been operating from Mombasa some 100 kilometres away.
"It is Pojo, his chief campaigner who has been covering his nakedness. But now that he has dumped him, we are yet to see how the MP will be operating because he has no home here in Lunga Lunga where voters can go to see him. If you want to visit his home, you have to travel all the way to Nyali in Mombasa," Mzee Salim Mwachimako pointed out.
However, Mwashetani is a high flier with powerful connections in the Jubilee administration although he is a Cord MP having been elected on a Ford Kenya ticket. The MP boasts of being close to Deputy President William Ruto. Sources however says the DP may have started giving him a cold shoulder after realization he cannot be relied upon to deliver the Digo vote.
A harambee he has been pestering the DP to preside over in his constituency has been ignored for many months even as sources say the MP's chances of being re-elected in 2017 are slim especially after a fallout with Mombasa governor Hassan Joho who in spite of being his political benefactor, he has dumped him and joined forces that are fighting the Mombasa county governor.
Khatib Abdallah Mwashetani video
Khatib Abdallah Mwashetani contacts
Email: khatibabdallah@yahoo.com
Telephone: 0722716614, 0723922222