Hassan Jumaa – Biography, KTN, Wife, Family, Contact
Hassan Jumaa hails from the South Coast region of Kenya. He was born, brought up and schooled there. He is a Sports Editor and Reporter with the Kenya Television Network, KTN. He is also the Producer & Host of Zilizala Viwanjani SHOW in KTN from Monday – Friday 5PM – 6PM.
He joined The Standard Group Limited as trainee reporter in December 2006 after graduating with a degree from The United States International University where he majored in Journalism and International Relations.
Jumaa produces the KTN Sports in Kiswahili. He is the brains behind the Kiswahili sports show 'Utesi Ugani' that airs every Sunday at 6:30pm. He is the producer as well as the host of the show. Hassan also deputizes for the Sports Editor.
He is well known for his stylish way of reporting the sports news where he prolongs his name like 'Hassan Jumaaaaaa'. He says he coined it from the way his native people pronounce the name.
Hassan Jumaa day to day functions include
Ensure the overall Swahili Sports product is appealing to the viewers and competitive in the market.
Producer in charge and host of 'Utesi Ugani'
Produce English Sports assignments
Hassan Jumaa Notable Assignments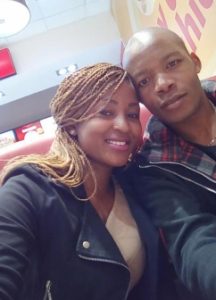 Covered The 2014 FIFA World Cup in Brazil
Hassan Jumaa Media Awards
2010 FOYA Journalist of The Year
Standard Group Deputy Chairman's Commendation
2009 2ND Runners Up FOYA Journalist of The Year … among others
Hassan Jumaa wife Eve Buya
In January 2016, KTN's Sports Editor Hassan proposed to his girlfriend Eve Buya. He revealed a picture of the engagement ring on his Instagram page. The photo was accompanied by a caption that read, "She said YES!!!" The two had been dating for over 2 years. We hope the wedding bells will ring very soon.
Hassan Jumaa Video
Hassan Jumaa Contacts
Twitter handle: @HassanJumaa,
Twitter site: https://twitter.com/hassanjumaa
Email: Jumaahassan@yahoo.com, jhassan@standardmedia.co.ke
Instagram: https://www.instagram.com/theofficialhassanjumaa/
Linkedin: https://www.linkedin.com/in/hassan-jumaa-02276282