Dennis Onsarigo – Biography, KTN, Wife, Case Files
Dennis onsarigo is behind the most viewed Investigative TV program known as 'Case Files' that airs on KTN. He is known to be a bold and courageous journalist having received numerous threats and attacks from the stories he covers.
He has been targeted by many individuals who feel threatened from being exposed to the public through dirty deals and corruption.
Dennis Onsarigo Education Background
Dennis Onsarigo went to a village Primary and High School in Kisii County. After High School he joined Kenya Institute of Mass Communication for his Diploma in Broadcast Journalism. Afterwards he joined The University of Nairobi for his Bachelor of Arts (B.A.), Political Science/Communication degree.
Dennis Onsarigo Job History
Dennis has been a Business Development Executive for Africa 24/7 from January 2015 – Present.
From January 2014 – Present he is a Director of Business Development at N & N.
From July 2011 – Present he has been a reporter for KTN News of Standard Media Group.
Dennis onsarigo started as a cameraman but after covering a Concours d'Elegance at Canivore grounds he decided he can be a reporter and that was his debut in reporting. He specializes in Crime, human interest stories and political reporting
Dennis Onsarigo Life story
Dennis Itumbi and Dennis Onsarigo were roommates and classmates at Kenya Institute of Mass Communication. In 2013, Dennis Itumbi revealed how he and Onsarigo one time had to stage a skit at Kencom bus stage to get cash having spent the entire day looking for jobs. Here's the story;
"So I remember this evening, we had searched for a job all day with my long time room-mate and friend @Dennis Onsarigo and having 18 bob left between us, meant we walk to South B…since we were to walk anyway, we got into a cyber and Onsarigo introduced me to email…yahoo.com…my first two emails usiniemail and usireplymaemail….then we got at Kencom and we decided to stage a show about 666 and relayed issues we made good cash….whatever u do, whatever you ate going through now my encouragement is remain focused…review ur dream if necessary, Onsarigo wanted to own an investigative series, which he does now, but he had to review his entry into media, he got on as a contract by contract Cameraman, once in he worked his way to his dream..but crucially write it down, otherwise its just fantasy…."
Dennis Onsarigo attacked by a gang in Nairobi's CBD
In March 2013, Dennis Onsarigo was brutally attacked by a gang of strong men in Nairobi's CBD. The attack took place along Banda Street, a few blocks from I&M bank building, where KTN has offices. It was at around 11PM, when according to Onsarigo, a gang of between 7 and 10 men surrounded and assaulted him.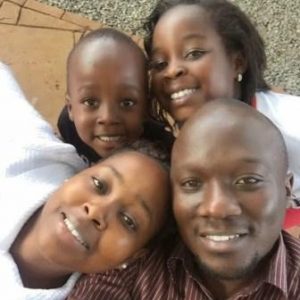 It's not clear whether the journalist was a 'premeditated target', or just a random victim, but according to him, the attack had nothing to do with his job. This is what he tweeted.
"Am fine but in pain. I was attacked by a group of seven-ten men on Banda Street at around 11pm. Nothing to do with work."
As soon as word went round that the good journalist had been assaulted, rumours started flying that the reporter had been beaten up after covering the KU riots. Onsarigo was probably denying that when he said the attack had nothing to do with his job. It is not clear whether anything was stolen from him though.
Dennis Onsarigo Wife, Children, Wedding Marriage
In August 22, 2009, Dennis Onsarigo wedded his sweetheart Jemimah Mkamburi. They have been blessed with  one Son and a Daughter.
Dennis Onsarigo Video
Dennis Onsarigo Contacts
Twitter Handle: @Donsarigo
Twitter site: https://twitter.com/Donsarigo
Facebook: https://www.facebook.com/dennis.onsarigo
Linkedin: https://ke.linkedin.com/in/dennis-onsarigo-a0872a9b