Akisa Wandera – Biography, KTN, Age, Family
Akisa Wandera was born in July 13 1992. She made her debut on KTN Prime Time News in March 2016 where she was introduced to the viewers by a co-host Ben Kitili. "Allow me to introduce to you the next  big thing in the Kenyan media. The latest addition to KTN's exceptional pool of talent. Akisa Wandera."
The following day an elated Akisa took to social media to thank he fans. She wrote, "The amount of feedback received from yesternight as I debuted on KTN was and still is overwhelming.. Thank you so very much for the support and the criticism… The journey continues…"
The Kenya Television Network (KTN) had announced the vacancies after its top news reporters who were poached from the station by Citizen TV.
Akisa has been working at Ebru TV from March 2014 where she was a News Anchor and presenter of  Tabletalk TV Show.
Before joining Ebru TV, she was at Korea Owned GBS TV Station.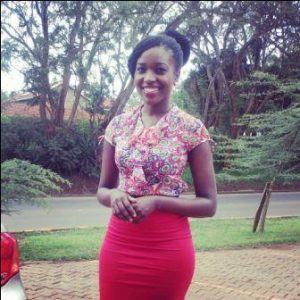 Akisa Wandera studied at the Kenya Institute of Mass Communication in South B Nairobi from 2010 and graduated in 2013. KIMC is the Pioneer Media Training College in Kenya.
Akisa was the first runners up in the category of Best Presenter of the year, during Media Council's, Annual Journalism Excellence Awards In 2015
She is one of the youngest News Anchor's in Kenya Television News Screens we have today. Akisa A. Wandera is only 25 years as at 2016.
Akisa Wandera Family
Akisa's family is composed of Sisters Irene Neksah Sifuna, Sharonne Kiaye, Vivian Nabwire and Velma Wandera, her brother Michael Brooks and Mother Lyndah Amran Olivier.
Akisa Wandera boyfriend
Akisa is not married. It is not clear if is seeing someone. But by the time of going to press her social lines were still open for a call.
Akisa Wandera Video
Akisa Wandera Contacts
Linkedin: https://ke.linkedin.com/in/akisa-wandera-3b3837a3
Facebook: https://www.facebook.com/anniey.s.axah
Twitter site: https://twitter.com/akisawandera
Twitter handle: @Akisawandera
Instagram: https://www.instagram.com/akisawandera/