Ben Kitili – Biography, KTN, Wife, Family, Daughter Ruby
Ben Kitili anchors KTN Prime, the network's premier news bulletin that airs Monday – Thursday at 9 PM. He is paired with Lindah Oguttu on the KTN Prime set, a pairing that goes back several years since their time at NTV.
As the KTN political editor, he is charged with ensuring concise and analytical political news coverage. He spearheads all political news operations at KTN and also files reports on KTN Prime when not on set.
Ben holds a B.A Communications (Electronic Media) degree from Daystar University, Kenya.
Ben Kitili Job History
Ben Kitili went to Baraka FM for an interview and got a rude reply, but he did not lose hope. The reply was "Am sorry, Boss. You can NEVER be a radio presenter. Infact, You just cannot be a presenter. Any presenter…"
He worked at K24 where he started as a sports reporter and anchor in 2008 before joining the news desk. He left K24 for NTV in December 2011.
After joining NTV and he ended up becoming a top news anchor in The Nation Media Group. He used to work for NTV where he anchored news alongside Lizz Ntonjira before moving to greener pastures at KTN in July 2013.
Ben, joined KTN in July 2013 from NTV. He has covered numerous breaking news stories and national news events; most notable, the 2013 general election, the 2010 constitutional referendum and International Criminal Court confirmation of charges hearings for the Kenyan cases.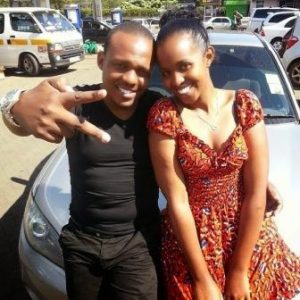 Ben has interviewed a host of news-makers including Amnesty International Secretary General Salil Shetty, Kenyan Deputy President William Ruto, Former Kenyan Prime Minister Raila Odinga, Kenyan county governors, Footballer Samuel Eto'o, recording artiste Akon and South African sports journalist Thomas Mlambo among others.
Ben Kitili wife Amina Mude, Family
Ben Kitili proposed to his fiance Amina Mude in in 2015. We hope the wedding ceremony is in the pipeline. They both were blessed with a beautiful daughter called Ruby kichuna.
Ben is a proud owner of a German Machine Mercedes Benz C-Class.
Ben Kitili Video
Ben Kitili Contacts
Facebook: https://www.facebook.com/Ben-Kitili-227678054093631/
Twitter Handle: @Ben_Kitilli
Twitter site: https://twitter.com/ben_kitilli