Eric Omondi Shows Off His Foster Mother Who Took Him Up And Paid His Fees At Daystar University
There are compassionate people out there! Evelyn Muchocho adopted Eric Omondi and schooled him in one of the most prestigious private universities in Kenya!
Sometimes in May 2015, Eric Omondi narrated how his foster mother took him up as her own son when his mother passed on.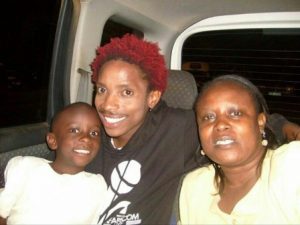 "So here is the story…The lady in the picture is called Evelyn Muchocho, she is my foster mother. In 2002, two weeks after I lost my mother I met her in church, she requested that I see her after the funeral and I did.
A month before this my mother Margaret Omondi was to take me to KTTC (Kenya Telecommunications and Technical College) what is now known as the Multimedia University on Mbagathi road, but then my mum fell sick and was hospitalized, the focus changed from my college fee to hospital bills.
Evelyn took me to Daystar University and ensured I graduated against all odds, this (Daystar) is where I met my friend, Dad, brother n mentor Churchill. Evelyn took me into her house in early 2004 when I lost my dad n I lived under her roof n care until 2010 when I finally graduated.
Whenever I go back home I go back home to her…on this day that people are celebrating their WCW I celebrate my mother Evelyn…I love you mum…God keep you in perfect peace and lift you forever more. (That boy on my lap is my cousin)."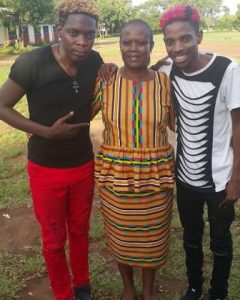 The comedian was once again showing off his mother as they posed for the camera together with his brother Fred Omondi.