Ali Wario – Biography, Profile, MP Bura Constituency, Tana River County, Education, Children, Son, Daughter, Age, Political Career, Wealth, Business, Video, Photo
Ali Wario profile
Ali Wario was born on 5th May 1970 in Bura Constituency in Tana River County. He is the MP for Bura Constituency having been elected to the 9th and 11th Parliament in 2002 and 2013 on a KANU and TNA ticket in Jubilee Coalition respectively.
Ali Wario education
Hon. Wario attended Mororo Primary School  between 1978 and 1985. In 1986 he joined Tarasaa High School ans sat for his KCSE in 1990.
From 2004 to 2005 he did a Diploma in Social Work at the University of Nairobi and in 2010 he enrolled for Bachelor of Arts (Political Science) course.
Ali Wario Career
From 1993 to 1996 Hon. Wario was a Field Officer with the Kenya Red Cross.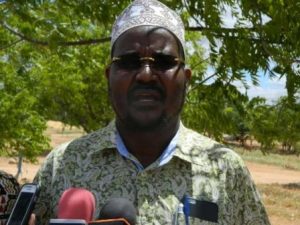 From 2009 to 2012 he was the Chairman of Cofi SACCO, Member of Board of Directors of Kenya National Trading Corporation, Chairman of African Union Specialties Task Force on Pastoral Policy Initiative and finally Chairman of the Board of Directors of Kenya Livestock Marketing Council.
Ali Wario Political Career
Hon. Wario dived into politics in 2002 when he was elected the MP for Bura Constituency on a KANU ticket. He was later given the post of Assistant minister for Home Affairs in 2003 until 2006. Between 2006 and 2007 he was the Assistant Minister for Special Programmes.
In 2007 Hon. Wario lost his seat to Nassir Nuh Abdi but recapture it again in 2013 on a TNA ticket.
In the National Assembly from 2013, Hon. Wario is a member of Departmental Committee on Public Works, Roads & Transport.
Hon. Wario in April, 2016 Urged the Tana River county administration to take urgent steps to contain Cholera outbreak in the area. Wario said the county should focus on mobilizing health workers and stocking the required drugs.
Ali Wario video
Ali Wario Contacts
Address: P. O. Box 10 Bura, Tana
Email: warioali@yahoo.com
phone: 0721398361, 0725206089