Ali Rasso Dido – Profile, MP Saku Constituency, Marsabit County, Education, Children, Son, Daughter, Contacts, Life History, Business, Wealth, Video
Ali Rasso Dido Profile
Col (Rtd) Ali Rasso Dido was born on 23 October 1961 in Marsabit County. He is the Member of Parliament for Saku Constituency in Marsabit County. He was elected to the 11th Parliament on a URP party ticket (Jubilee Alliance) in March 2013.
In the National Assembly, he is a member of the Departmental Committee on Defence and Foreign Relations since March 2013.
Col (Rtd) Ali Rasso Dido has spoken 411 times in Parliament.
Ali Rasso Dido education Background
Col (Rtd) Ali Rasso Dido was educated at King's College London (MA Defence Studies, 1999) the Open University (MBA, 2003) and the University of Nairobi.
Ali Rasso Dido Clan politics in Marsabit County
Prior to Joining elective politics Col (Rtd) Ali Rasso Dido was a KDF Colonel.
Col. (rtd) Ali Rasso Dido became the M.P elect for saku constituency, Marsabit county after gathering 8,560 votes beating the sitting M.P Mr. Tari Sasura and assistant minister for Northern Kenya who came in a distant third with 3,514 votes.
Dr Jama Wolde of Raila's CORD coalition came in second with 5,064 votes. Hon. Rasso and Sasura, who are members of URP and TNA parties respectively, are both in Uhuru's Jubilee coalition.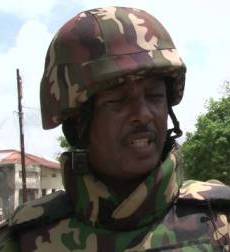 Costly political power play in Marsabit county has hindered development in the vast area. In the run-up to the general elections, the county was terribly polarized.
It was a two-horse race between Boran on one side and REGABUGA TUKOSAWA, the latter being a group of minorities standing for REndile GAbra BUrji GArreh TUrkana KOnso SAkuye WAta.
That meant two things. One, the superiority contest is settled, Boran were for long been perceived as dictators and pride in their 'might'. REGABUGA TUKOSAWA was out to disapprove them. Two, the winner takes it all. Borana win would have locked REGABUGA TUKOSAWA from key leadership positions in the county.
The other side's line up was such that the Boran were effectively locked out. Since the Boran did not do their arithmetics right, Ukur Yattani, the REGABUGA TUKOSAWA gubernatorial candidate led his entire line-up to a hard-earned victory.
From election of the County Speaker down to the lowest job, governor Ukur strategically implemented their number one manifesto of teaching Boran some lesson.
As I earlier said,the winner takes all. The locking out of a single majority community bred discord and disharmony in the county. This led to the widely covered clash between governor Ukur and Mps from Boran community, Hon Roba Duba and Hon Col. (rtd) Ali Rasso Dido at an Investor Conference. The progress has since stalled. This is the situation in Marsabit county.
Ali Rasso Dido Video
Ali Rasso Dido contacts
Email: dirasso61@yahoo.com
Telephone: 0722934348