Ali Manzu – Biography, KTN, Wife, Family
Ali Manzu full name is Ali Khamis Manzu. He was born in Mombasa County. He is a Senior KTN Kiswahili News Anchor, Editor and Reporter of Standard Group SGL.
Ali Manzu Education Background
Initially Ali Manzu had studied I studied Architectural draughtsmanship at the Technical University College in Mombasa. After he discovered less opportunities in that field, he tried communication. He did a diploma in Communication and Journalism in Nairobi.
After working for around ten years, he joined Moi University, Nairobi Campus taking B.A in Communication and Public Relations and graduated in September 2015.
Ali Manzu Job History
After graduating with a Diploma in Nairobi, Ali Manzu went back to Mombasa and got an internship opportunity at Sauti House in video production. While he was there, Ali Manzu worked on 'Penzi Hatari', a classic local TV show.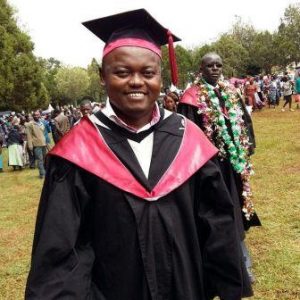 Manzu moved on to Radio Rahma in Mombasa. It is a religious station which helped him become who he is today. He perfected his radio production skills through different departments in radio. He was in Radio Rahma for six years.
After leaving Radio Rahma, Ali Manzu went to Radio Salaam in Mombasa. While in Radio Salaam , he was head hunted by Katua Nzile of KTN and joined KTN Kenya in 2006.
While still new in KTN he was reporting in Naivasha in 2007 elections and after elections when he came face to face with the real trauma that happened in Naivasha in 2008 post election violence. That horrible experience still haunts him to-date.
Ali Manzu life story
Before coming to Nairobi in 2003, Ali Manzu had been warned to be very careful in 'that city'. His mother cautioned him about talking to strangers.
On the day of the journey, she packed him potato chips and eggs in a lunch box and told him with so much love in her eyes: "I can't give you any money my son; that's all I have."
"I remember sitting in the bus at Mtito Andei enjoying my home cooked food as the rest, probably Nairobians traveling from Mombasa, stepped out to eat at the restaurants." Manzu narrates.
On arrival, he was shocked by the speed at which people were moving. Everyone seemed so busy. But that was nothing compared to watching a woman being mugged while everyone went on with their business. Not even her cry for help seemed to awaken the human nature in these living beings moving around.
Ali Manzu says there was this annoying habit where he had to queue for a matatu. He had never seen that in Mombasa. The preachers in River Road did not make life any easier for me. It was like a competition on who would shout the loudest. There was more madness near Globe Roundabout.
City council askaris and hawkers engaged in running battles. At first it was the City Council chasing the hawkers who would in return chase them with stones, which he found quite hilarious.
One day he decided to visit a friend from K-South music group. However, his grandmother would not let him claiming that K-South was too risky for him. She told him that Kariobangi South was the most dangerous area in Nairobi and that he would get mugged and undressed if he went there. He never visited Kariobangi South until he graduated into a 'real' Nairobian!
Ali Manzu Wife, Wedding, Marriage
Ali Manzu is married to Amina Gullam, an airline hostess with Etihad Airlines.
The wedding ceremony was held at The Sir Ali Muslim Club in Ngara, Nairobi. He was with family and friends as they anticipated the arrival of his new bride to be Amina Gullam.
In standard Muslim tradition the men and women sat in different sections of the venue. With henna and stunning jewelry making a strong show at the gathering, guests especially the ladies were dressed to impress. The bride came to the venue in a state of the art Mercedes Benz.
Ali Manzu Family, Parents
Ali's father Mr. Manzu is an Arsenal fan and mother too. Ali Manzu has five siblings
Ali Manzu Video
Ali Manzu Contacts
Linkedin: https://ke.linkedin.com/in/ali-manzu-7777338b
Twitter handle: @Ali_Manzu
Twitter site: https://twitter.com/Ali_Manzu