Abdulaziz Ali Farah – Profile, MP Mandera East Constituency, Mandera County, Education, Children, Son, Daughter, Contacts, Life History, Business, Wealth, Video
Abdulaziz Ali Farah Profile
Abdulaziz Ali Farah was born in Mandera County. He is the Member of Parliament for Mandera East Constituency on a United Republican Party (URP) in the Jubilee Alliance since March 2013.
In the National Assembly he is a member of Departmental Committee on Environment & Natural Resources since March 2013.
He comes from the Murulle Clan. He was endorsed to vie for Mandera East Constituency MPs Seat by Council of Elders at a meeting in Arabia in Mandera County.
Part of the council of elders mandate was also to unite the clan to sweep all the other seats in the county.
Abdulaziz Ali Farah has spoken 42 times in Parliament since March 2013 until April 2016.
He Graduated from Kenyatta University in 1995 and in June 14, 2011 he started Working at TJRC.
Abdulaziz Ali Farah on Mandera Attacks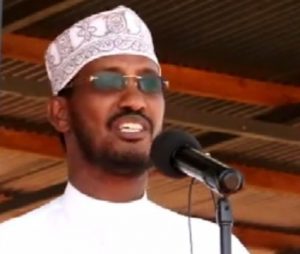 In March, 2015, leaders from Mandera county demanded the immediate transfer of county commissioner Alex Nkoyo. The leaders, including Abdulaziz Ali Farah, Governor Ali Roba and Senator Billow Kerrow, said the commissioner had failed to protect the county from threats by terror groups. Four people were killed and others seriously injured when gunmen opened fire at a group of people walking to their homes in Mandera, while three others were killed in Roba's convoy.
The victims are said to be non-locals. The leaders accused the Jubilee government of neglecting Mandera and demanded urgent action to stop crime.
The MPs from the county spoke to the press in Parliament. The leaders said President Uhuru Kenyatta and Deputy President William Ruto have not addressed insecurity in the county. They promised to review their relationship with Jubilee if the attacks are not stopped.
"The attacks have been going on for a long time without significant response from the government. The government must intervene or we shall be forced to defend ourselves and our property," said Mohammed Mohamud, the MP for Mandera West.
The leaders said Mandera county has received the same level of attention in the war against terror. Leaders in the press conference included Kerrow, MPs Mohamud, Adan Mohammed Nooru (Mandera North), Abdulaziz Ali Farah (Mandera East) and Isaack Shabaan (Lafey), and women's representative Fathia Mahbub.
Abdulaziz Ali Farah Video