Abdikadir Ore Ahmed – Profile, MP Wajir West Constituency, Wajir County, Education, Children, Son, Daughter, Contacts, Life History, Business, Wealth, Video
Abdikadir Ore Ahmed profile
Abdikadir Ore Ahmed was born in 1972 in Giriftu, Wajir County.  He is the MP for Wajir West Constituency in Wajir County.He was elected to the 11th Parliament on an ODM ticket (CORD Coalition) in March 2013.
He is the member of the National Assembly of Departmental Committee on Administration and National Security from March, 2013.
Abdikadir Ore Ahmed has spoken 51 times in Parliament from March 2013 till March 2016.
Abdikadir Ore Ahmed Education Background
Abdikadir Ore Ahmed attended Giriftu Primary school between 1979 and 1985. From 1986 he was Admitted to Sabunley Secondary School until 1989 when he did his KCSE.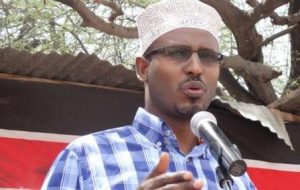 In 1992 he joined Kenya Medical College for a Diploma in Nursing, Nutrition and Health systems and graduated in 1996.
In 2003 he joined the University of Dundee, Scotland for Bachelor of Sciences in Medical Services and graduated in 2007.
In 2011 he joined Kenya Methodist University for Master's degree in Health Systems Management.
In 2015 he enrolled in Management University of Africa for his Master's degree in Leadership and graduated in August 2016.
Abdikadir Ore Ahmed life history
Abdikadir Ore MP for Wajir West grew up in conditions of great deprivation. "My mother tells me I never waited for food to be ready. Because there was none. I always picked my schoolbag and galloped to school despite my empty stomach," says Abdikadir.
This taught him the virtue of humility. He is an easy-going guy. The MP crosses the backstreet street and dines at the "local" food joints like Al-Yusra Restaurant in the city centre unnoticed. "Humility is Godly," he explains rather philosophically.
He assumed leadership role right from his childhood in primary and secondary schools having served as school prefect all through. "Many of schoolmates were older than me, but still my teachers believed in my abilities.
Abdikadir Ore Ahmed launches drive against 'disappearing' terror suspects
In August 2015, Abdikadir Ore and several other Activists launched the drive against 'disappearing' terror suspects. The activists include a section of Muslim and political leaders from the North Eastern Kenya.
Wajir West Member of Parliament Abdikadir Ore said the campaign will help in sealing loopholes that may lead to excessive use of force during arrest and interrogation of terror suspects.
Abdikadir Ore Ahmed Video in National Assembly
Abdikadir Ore Ahmed Contacts
Email: abdikadirore@yahoo.com, info@abdikaderore.com
Telephone: 0720303034, 0712986767,
Ground Floor,CDF Offices, Wajir Town.
Opposite Equity Bank