Victoria Rubadiri – Biography, NTV Anchor
Victoria Rubadiri was born on January 28, 1987 in Kenya. At age 10 the family moved to the US. She studied and grew up ther until 2010 when she decided to return to Kenya to eke a living for her daughter Neema.
Victoria Rubadiri is a reporter and news anchor for NTV. Victoria Rubadiri also the host and producer of the Women and Power segment that airs every Saturday during the Prime Time bulletin
Victoria Rubadiri Education Background
From 1999 – 2003 Victoria went to Atlantic City High School in Atlantic County, New Jersey, United States for his 9th to 12th grade.
From 2003 – 2006 she went to Temple University Philadelphia, Pennsylvania, United States for her Bachelor of Arts (B.A.), Broadcast Journalism Degree.
Victoria Rubadiri Job History
From December 2012 – Present Victoria, is an Anchor and Reporter with the Nation Media Group's NTV in Kenya.
From April 2011 – December 2012 Victoria was a Business Journalist and news Presenter at Capital FM in Nairobi Kenya.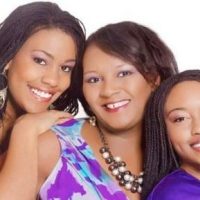 from March 2008 – September 2008 she was an Assistant to CEO of Angela Crockett Enterprises Inc. in New York and New Jersey. She wrote proposals, press releases and official letters, created newsletter for ACA client the Book Bank Foundation based in New York City, USA.
From January 2007 – May 2007 she was an Intern and an Assignment Desk Editor at WMGM-NBC 40 TV in Linwood, NJ. She wrote scripts for the evening news program and also conducted field reports across the state of New Jersey including an interview with U.S. Representative Frank A. LoBiondo (R)
Victoria Rubadiri Tribe, Nationality
According to Victoria Rubadiri this is the state of her tribe and nationality.
"My mother is a mix of Maasai and Kalenjin, my grandfather was half Kalenjin and half Scottish and my grandmother, Kikuyu, Maasai, and Seychelloise. Put that together and you could say I am a little bit of everything."
Victoria Rubadiri Life History
Victoria Rubadiri has opened up on how falling pregnant at 18 made her desperate and left her thinking of procuring an abortion. Vicky got pregnant while studying journalism at Temple University in the United States where her family was living.
Her boyfriend denied responsibility for the pregnancy but her father and other family members categorically refused her abortion agenda.
In 2005 she gave birth to a lovely daughter called Neema.
Her parents who are both church ministers.
Victoria Rubadiri and Larry Madowo
Victoria Rubadiri and Larry Madowo had the most amazing palpable chemistry on Kenyan TV and many felt that there was a lot of love going on behind the screens.
So it was only natural that people thought that the two were dating something which Larry has denied. Victoria also says there wasn't such romantic love between them. They are just amazing friends!
On why the two 'broke up' with Victoria being consigned to Lunch Time news and Yvonne Maingey taking her place on Prime Time alongside Larry, Victoria reveals that since they had new anchors on board, the management decided to change up things. Kind of get them into the whole anchor shift. So they broke up some pairs put others together such as Victoria was paired with Ken, Larry and Maingey.
Victoria now says she is not dating anyone because most men fear her stature, demeanor, confidence and disposition.
Victoria Rubadiri Video
Victoria Rubadiri Contacts
Twitter: https://twitter.com/vickyrubadiri @vickyrubadiri
Facebook: https://www.facebook.com/VRubadiri/
Linkedin: https://ke.linkedin.com/in/victoria-rubadiri-4a019a95