Robert Mbui – Biography, MP Kathiani Constituency, Machakos County, Wife, Family, Children, Age, Wealth
Robert Mbui Profile
Robert Mbui was born on 29 August 1968 in Machakos County. He is the Member of Parliament for Kathiani Constituency.
He was elected to the 11th Parliament on a WDM-K party in the CORD Coalition in March 2013.
Kathiani Constiuency, formerly Iveti North, was renamed ahead of the 1988 elections. In 1988 Laban Maingi Kitele was elected as the Kathiani MP on a KANU one-party system.  In 1992,Jackson Kimeu Mulinge took over and in 1997, Peter Kyalo Kaindi of SDP was elected and re-elected for a second term on a Narc ticket in  2002. Wavinya Ndeti of CCU was elected in 2007 as the first women to be elected as an MP in the larger Machakos District.
Hon Mbui is the WDM-K party's Organizing Secretary.
In the National Assembly he is a Member of Procedure and House Rules Committee from 2013.
Hon Mbui has spoken 208 times in Parliament since 2008.
Mbui Robert Education Background
Hon Mbui attended Kathiani High School, Machakos in 1989 and thereafter completed his Undergraduate Studies at Kenyatta University 1994.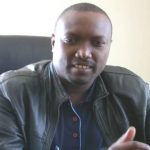 He holds a Masters in Strategic Management from the Kenya Institute of Management.
Mbui Robert job history
Hon Mbui, is the director of  Mutungoni Academy in Athiriver from 1994 until 2012 when he joined elective politics.
Previously he was the Kathiani Constituency CDF chairman.
Robert Mbui Wife Janet Mbui
Mr Mbui is married to Janet Mbui the director of the Mutungoni Academy.
Robert Mbui Children
Mr Mbui and Janet Mbui have two sons and a daughter; Carlton, Shawn and Lakita.
Robert Mbui Father, Parents
Hon. Mbui is the grandson of former Chief of General Staff Gen (RTD) Jackson Mulinge and Lesa Mutethya. Jackson Mulinge died in June 2014.
The late Mulinge is credited for playing the major role in quelling the infamous 1982 attempted military coup on Moi's government.
Robert Mbui Video
Robert Mbui Contacts
Email: mbui@mutungonischools.co.ke
Facebook: https://www.facebook.com/robert.mbuimpkathiani/about
Phone: 0722527333