Roba Sharu Duba – Profile, MP Moyale Constituency, Marsabit County, Education, Children, Son, Daughter, Contacts, Age, Life History, Business, Wealth, Video
Roba Sharu Duba profile
Roba Sharu Duba was born in Moyale in Marsabit County. He is the MP for Moyale Constituency having been elected for the first time in March 2013 to the 11th parliament on a UDF party ticket.
In February 1995 he changed his name from Robert Roba Duba to Roba Sharu Duba.
Roba Sharu Duba is the former Nairobi City Town Clerk who in April 2012 took over from Philip Kisia who had quit to enter the race for Nairobi County Governor.
He is the former CEO of The Local Authorities Provident Fund. He had previously served as Town Clerk in Moyale, Kilifi, Mombasa, and finally Nairobi where he resigned after five months to join active parliamentary politics in Moyale in 2013.
Roba Sharu Duba reason to join politics
Roba Sharu Duba said, "I am responding to the call of Moyale residents, who are asking for my services, this time as a politician, after first serving them as a town clerk,"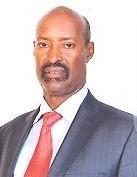 Roba Sharu Duba said the reason for quitting the high-profile job of city clerk to declare his candidature is to foster inter-communal harmony in Moyale through the establishment of credible conflict resolution mechanisms. "Moyale has not known peace in its history and security is paramount in my political agenda," he said.
Roba Sharu Duba on Marsabit insecurity
In September 2013, Media reports attributed to the Marsabit County Governor, had indicated that some three people were killed in an inter-community conflict following an attack on Lorries carrying goods near Moyale town along the Moyale-Marsabit road.
Roba Sharu Duba stated categorically that it was misleading to say the inter-community conflict arose from an attack on Lorries carrying goods. The fact of the matter was that initial attacks and killings were orchestrated, planned and executed by one community militia from Ethiopia, which had crossed the border into Kenya.
The evidence was established from the identification documents found on the bodies of some of those who were killed and those injured in the attack on a Manyatta at Antutta.
One of the people who were injured during the attack by this militia had been identified as an assistant chief from this community in the neighboring Ethiopia. The said chief was injured in the initial fatal attack on a Borana Manyatta at Antutta.