Reasons why RAILA ODINGA wants LARRY MADOWO sacked from NTV
Coalition for Reforms and Democracy (CORD) leaders and supporters have threatened to boycott watching NTV if the station fails to suspend Larry Madowo after he disrespected CORD leader, Raila Odinga.
On Thursday, Madowo insulted Raila Odinga by terming his Eurobond dossier as "nothing more than a fart"
The respected journalist said "Show of hands, who else was expecting an explosive list from Raila Odinga and all we got was nothing more than a fart?"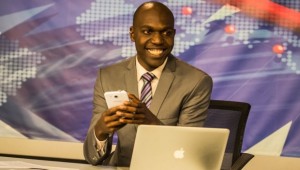 CORD leaders and supporters have now called for the immediate sacking of Madowo by NTV terming him as an embarrassment to the media fraternity and Kenyans in general.
CORD supporters led by city businessman, Jacob Juma, said that Madowo should be suspended the same way former Daily Nation Special Projects Manager, Dennis Gulava, was suspended after he insulted President Uhuru Kenyatta.
"In the same way NMG suspended Galava for being critical to Uhuru's presidency Larry Madowo should be suspended for abusing Raila Odinga," Juma said.
NTV's management is yet to make any public statement regarding the issue.