Raila Odinga big blunder that may cost him the KISII bloc
Former Prime Minister Raila Odinga may have made a big blunder in releasing names of Eurobond thieves that included Central Bank of Kenya (CBK) Board Chairman, Mohammed Jairus Nyaoga.
His expose could cost him the Kisii bloc going by what happened yesterday. Kisii leaders denounced him on live TV and warned him to stop playing with fire by implicating one of their own – Nyaoga – in the Eurobond scandal.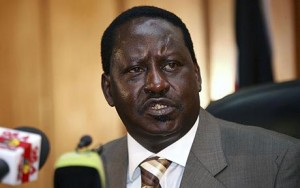 Led by Kitutu Chache North MP, Hon. Jimmy Angwenyi, Kisii politicians attacked Raila Odinga and branded him an enemy of the region.
They exonerated Nyaoga from any wrong doing in the alleged theft of the Eurobond money, saying the former PM was wrong to implicate him.
They demanded an apology from Raila Odinga or else he should forget support from the region.
"Raila Odinga is reducing himself by meddling in the issues he does not understand. Implicating Nyaoga in Eurobond saga is overstretching his limits and testing our patience. He has crossed the red line," said Angwenyi.