Is RAILA ODINGA celebrating the banning of KIKUYUS from Tanzania? This is what ODM blog revealed
CORD coalition propagandists are currently burning the midnight oil trying to weave out silly propaganda against the Jubilee Government to enable their aging CORD leader, Raila Odinga, win the Presidency in 2017.
The quasi propagandists, who are die-hard supporters of Raila, are now becoming desperate and are now weaving out false stories online about US President Barrack Obama, US Republican Presidential hopeful, Donald Trump, and Tanzanian President, John Pombe Magufuli.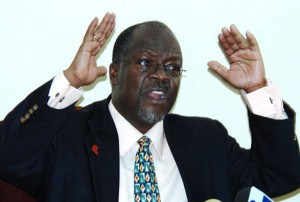 A recent case in point is an article which appeared on a CORD blogsite that erroneously said that President Magufuli had ordered Tanzania's Department of Immigration to demand from all Kikuyus entering Tanzania to produce a recent Certificate of Good Conduct and report to the Tanzanian police the reason of their visit and the duration they will stay there. See the article below



The propagandists, who want a repeat of the 41 versus 1 mantra, labelled Kikuyus as thieves who are committing various crimes in Kenya and East Africa as a whole.
To show that this was a CORD propaganda, Raila Odinga's Communications Director, Philip Etale, even shared the story  on his social media platforms  and even celebrated the 'banning' of Kikuyus from Tanzania.
This is what Etale wrote.