Okoa Kenya signatures are fake, We were selling MPESA books to RAILA for Sh 5,000, Mpesa agents reveal
Okoa Kenya signatures are fake. A number of Mpesa agents in Nairobi have asked the Independent Electoral and Boundaries Commission (IEBC) to stop verifying the Okoa Kenya Movement signatures because majority of them were fake.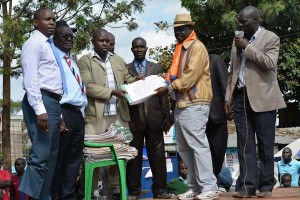 Speaking to journalists in Nairobi on Monday, one MPesa agent who was identified as Purity Mwikali said she sold Mpesa books to CORD agents in Kibera at a cost of Sh 5,000 per book.
"I was approached by ODM leader from Gatwikira who promised to buy all old MPesa registers for Sh 5,000 per book. I sold 5 books and I was able to make Sh 25,000 quick money," Mwikali said.
Another source said many MPesa agents in Nairobi were making a kill during the collection of Okoa Kenya signatures and urged the IEBC to verify the signatures carefully because many Kenyans never signed for the Okoa Kenya initiative yet their names are in the register.
Meanwhile, CORD leaders issued a statement on Monday dismissing these claims saying it is the Jubilee Government which is propagating such lies that Okoa Kenya signatures were fake.
"Jubilee is once again leading the chorus on the question of threshold. It is raising questions over the veracity and the number of signatures we submitted. Jubilee is raising the question of threshold which was and remains at the centre of Uhuru's Kenyatta's fraudulent victory in 2013 when IEBC went all out to ensure the Jubilee candidate scraped through without a run off," a statement from CORD read.
"We will not be surprised if the IEBC bends over again to confirm Jubilee's prophecy that the Okoa Kenya bill did not meet the threshold on signatures," CORD added.