RAILA ODINGA again! Exposes another multi-billion scandal even after refusing to be grilled
Even before we forget the sh 140 billion that was part of the Eurobond proceeds that was allegedly stolen by officials in the Jubilee Government as alleged by the Opposition, former Prime Minister Raila Odinga has exposed another multi-billion scandal.
Addressing the Press yesterday at Serena Hotel, Raila Odinga claimed that a whopping sh 10 billion has gone missing in the Treasury.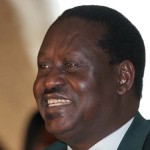 According to the former PM, Uhuru/ Ruto's Government cannot account for the sh 10 billion of the Eurobond money which was allegedly disbursed to various Ministries in the financial year 2013/14.
He said according to documents he obtained from Treasury, the Jubilee Government allegedly allocated sh 35 billion from the sh 250 billion obtained from the issue of the Eurobond to finance a budget deficit but only sh 25 billion can be accounted for while sh 10 billion cannot be traced.
He challenged the Government to come clean and explain to Kenyans where the sh 10 billion vanished to.
However, Treasury has denied Raila's allegations saying that the sh 10 billion he is alleging that is missing was actually returned to the Central Bank of Kenya.
Surprisingly, this comes even after Raila refused to be grilled by the Ethics and Anti-Corruption Commission (EACC) over the whole issue of the Eurobond saga after claiming that money was lost.