Patrick Makau King'ola – Biography, MP Mavoko Constituency, Machakos County, Wife, Family, Children, Age, Wealth
Patrick Makau King'ola Profile
Patrick Makau was born in Machakos County, Kenya. He is the MP for Mavoko Constituency in Machakos County. He was elected March 2013 on a WDM-K party ticket in the CORD Coalition.
In the National Assembly he is a member of Departmental Committee on Lands and Natural Resources and Departmental Committee on Finance, Planning and Trade.
Patrick Makau King'ola has spoken 164 times in Parliament since March 2013.
Patrick Makau King'ola job history
Patrick Makau was a banker at Standard Chartered bank until 1999 when he joined Mavoko Municipal Council as Athi River Councillor in 2002.
In 2008 He was elected as the Mayor of Mavoko Municipality and in 2011 he was re-elected as the Mayor.
Election Petition against MP Patrick Makau King'ola dismissed
In July 2013, Patrick Makau retained his seat as MP for Mavoko Constituency after Justice Mutende declared she found the election to have been conducted in accordance with the law.
"I find the election to have been fairly and transparently conducted in accordance with the election laws. The verdict of the electoral body must be respected", she said in during the ruling that took more than an hour.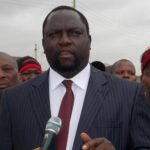 Petitioners Wilson Munguti, Philip Kilonzo, Stephen Muthoka, John Malii, Joseph Makau and Solomon Kimuyu had moved to court have Makau's win nullified.
All petitioners, their lawyers or agents were not in court when the judgment was delivered. They had cited several election malpractices before and during election, among them vote buying, bribery and failure by their agents to sign forms 35.
Patrick Makau King'ola accused of Land Grabbing by Machakos Governor Alfred Mutua
In November 2015, Machakos County Governor Alfred Mutua asked the EACC to investigate the Mavoko MP claiming he was involved in an attempt to grab 13,000 acres of a company's land.
The Machakos Governor said MP Patrick Makau is among senior officials involved in "massive corruption" concerning the East African Portland Cement Company property.
"We are aware that interested groups involving senior government officials and brokers are involved in a plot to grab and sell off the land," Mutua said.
"The land is not and has never been for sale. It is public property and there has been no plan to parcel or sell it," he added.
In a letter, Mutua asked the commission to swiftly investigate the alleged attempt to grab the land saying it had no squatters but that people were placed on it to justify the grabbing.
"Anyone who has purchased parcels of the land should consider themselves to have been conned," he said, and directed all occupants to leave. "If this matter is not handled expeditiously, we fear it may culminate in blood shed," he said.
Patrick Makau King'ola tells Wavinya Ndeti to go and Vie as a Governor in Nigeria
In April, 2016, Mavoko Mp Patrick Makau and Kathiani Robert Mbui described Wavinya Ndeti as an arrogant and a proud
woman who was not fit for any political position in Kenya.
"The Good book is very clear that a woman will ditch her tribe to adopt her husbands', Wavinya would be respected by the Kamba community if she would vie at Nigeria where she is married. The funny thing is that even after she tied knots with a Nigerian citizen, she continued to stay in Kenya." fumed Patrick Makau giving an example of former lands CS Charity Ngilu who shines at Kitui where she is married, despite being born at Mbooni.
Patrick Makau said Wavinya displayed a lot of arrogance and Machakos people would regret if they entrust her with any political position. He said Wavinya was going round his Mavoko Constituency telling people that projects she started were not completed almost four years since Makau took power.
Patrick Makau King'ola Video
Patrick Makau King'ola Contacts
Email: p-makau@yahoo.com
Telephone: 0722788205