Julius Kariuki Ndegwa – Biography, Profile, MP Lamu West Constituency, Lamu County, Education, Children, Son, Daughter, Age, Political Career, Wealth, Business, Video, Photo
Julius Kariuki Ndegwa Profile
Julius Kariuki Ndegwa is the MP for Lamu West. He was born in Mpeketoni in Lamu County. He was elected on a Kenya National Congress Party Ticket of the Eagle Coalition.
He is a first time MP in the 11th Parliament.
Julius Kariuki Ndegwa Education
Julius Kariuki Ndegwa attended Lamu Boys High School
Julius Kariuki Ndegwa political career
Before becoming an MP Julius Ndegwa was the Councillor of After been elected to Parliament in 2013 on a Kenya National Congress Party Ticket of the Eagle Coalition, problems started following Julius Kariuki Ndegwa left right and center. Most of these problems were political and others self inflicted.
Julius Kariuki Ndegwa theft of CDF Funds
In June 2015, Julius Kariuki Ndegwa and four other accomplices were arraigned in court for corruption. They allegedly, jointly through corrupt and fraudulent practices, caused an irregular transfer of Sh1.6 million to the Lamu CDF office account, which was allocated for the construction of the Witu Livestock Cattle Dip.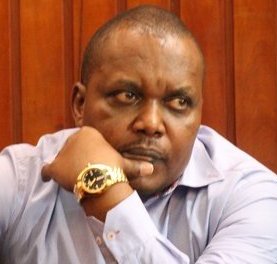 Mr Kariuki, Mr Thegeru, Mr Hassan, Ms Wanjiru and Mr Gitonga, also being members of the Witu Livestock Cooperative Cattle Dip Project's management committee, jointly reallocated the money meant for the dip project without any approval from the CDF board.
The court also heard that the accused jointly misappropriated the money allocated for the project. Mr Kariuki allegedly used his office to improperly confer Sh1 million to himself meant for the administration of the Lamu West CDF office.
The offences are alleged to have been committed on diverse dates between July 7 and October 30, 2013 in Lamu County.
Julius Kariuki Ndegwa forges Dead man's Signature
In Nov, 2015, he was again arraigned in Court this time over the alleged forging of a dead man's signature in order to acquire land in Lamu.
He was accused of forging the late Omar Kola Barisa's signature and obtaining 4.5 hectares in the prime port area of Hindi/Magogoni.
The MP is also said to have obtained a certificate of power of attorney with the fake signature, which he used to sell the plot. Julius Kariuki Ndegwa allegedly sold the plots to two businessmen in the area, Yussuf Sufi Abasheikh and Mohaddin Sufi Abasheikh, at Sh4million. During the land transfer, the anomalies were spotted, with the MP promising to pay a fee of Sh2million to the two individuals as a gesture of apology.
The businessmen, who are brothers, now accuse Ndegwa of issuing at least six bouncing cheques for the refund of their money. The cheques were allegedly drawn on the Equity and Cooperative banks between September 30, 2014 and January 30 2015.
Julius Kariuki Ndegwa on 2014 Mpeketoni Attacks
Thursday July 24, 2014: Lamu West MP, Julius Kariuki Ndegwa, said that June attack at Mpeketoni town was purely political and no members Al Shabaab were involved in it.
Speaking during Citizen TV talk show Cheche, Julius Kariuki Ndegwa said the attack was fanned by politicians associated with Coalition for Reforms and Democracy (CORD), who also attended the Mombasa rally at Tononoka Grounds Mombasa, a day before the attack.
The MP, who is a member of the community that the attackers targeted, said the Mpeketoni massacre where over 100 innocent Kenyans lost their lives was purely incited by the opposition lead by Raila Odinga.
"These latest attacks had nothing to do with terrorism. It was the opposition leader and his goons," Julius Kariuki Ndegwa said
He said Raila Odinga was using his point men at the Coast region to incite other communities against one community.
Julius Kariuki Ndegwa also said criminals who were hiding at Boni forest were criminals associated with CORD coalition.
Lamu West lawmaker Julius Kariuki Ndegwa said he escaped the killing spree by about 30 minutes. "I was meeting some of my constituents at the Breeze View Hotel which was attacked and set ablaze. I left the hotel to meet another group of people and 30 minutes later it was attacked," he said. "The owner of that hotel was also killed."
Julius Kariuki Ndegwa lorry impounded with Bhang and Heroine
In Aug 2015, a lorry belonging to Lamu West Member of Parliament Julius Kariuki Ndegwa, was impounded with narcotics in Mpeketoni, Lamu County. Ndegwa distanced himself from the haul saying those caught in the lorry should face the law.
The lorry which was transporting 200 bags of cement from Malindi to Mokowe, was stopped by police at Witu road block and on a closer look police discovered 390 big rolls of canabis sativa (Bhang) with a street value of kshs 175,000 and 24 sachets of heroin of unknown value.
The driver of the lorry Martin Mureithi Njuguna and two other occupants Joseph Gathunga Mbugua and Geoffrey Kahuki Kanyingi were arrested and escorted to Mpeketoni Police Station. The lorry KBY 986Z has also been impounded pending a probe.
Julius Kariuki Ndegwa wife Shiphira Wanjiku
Lamu West Member of Parliament Julius Kariuki Ndegwa was locked in a custody battle that had seen his estranged wife Shiphira Wanjiku reveal alarming details about their marriage.
During court proceedings where Wanjiku was challenging Julius Kariuki Ndegwa's court application to deny her custody of their two children, she shared that the MP was abusive for most of the 15 years they were together, even causing her to miscarry four pregnancies.
She said that she had conceived six times in her marriage but due to her husband's alleged beatings, she lost four pregnancies.
On March 5, 2015, her ten-year-old daughter with whom she had been staying in Babadogo, was apparently taken from her by the MP's driver and bodyguard, leaving her with their two-year-old son.
The Children's Court has now ordered the Lamu West MP Julius Kariuki Ndegwa to appear in court and explain why he should not be jailed for failing to obey court orders issued on July 14, 2014 with regard to payment of the KSh 200,000 monthly upkeep.
Julius Kariuki Ndegwa video
Julius Kariuki Ndegwa contacts
Email: cllrkaris08@yahoo.com
Telephone: 0722813658