Julie Gichuru – Biography, Husband, Family, Wealth, Bio, Profile, Education, children, Son, Daughter, Age, Job history, Business, Net worth, Video, Photo
Julie Gichuru Profile
Julie Gathoni Sumira Gichuru was born on 7 January 1974 in Wanyee estate, Dagoretti, Nairobi. Julie Gichuru is a Kenyan journalist and news anchor formerly worked for Royal Media Services as Group Digital Business Manager and talk show host. She's now at KBC.
Julie Gichuru Education Background
Julie Gichuru attended St Christophers School in Nairobi and at the age of eight attended the Green Herald in Bangladesh where her father was posted for military training.
On returning to Kenya Julie spent a term at Karen C school based in Karen before transferring to Loreto Convent Msongari in Standard Four.
In Form 2 Julie convinced her parents to transfer her from the local 8-4-4 system to a GCE boarding school and she joined Imani School in Thika for Form 3 and 4.
After this she spent two Semesters at USIU before transferring to UK where she did a one year pre-University Course at Warwick University.
Julie then accepted a place at the University of Wales, Cardiff for her Law Degree. Once complete she worked for a year to help finance her Masters degree and completed her Masters in Business Administration at the same University.
For a brief period Julie did her pupillage at Hamilton, Harrison & Matthews Advocates in Nairobi before pursuing a different career path in the media.
Julie Gichuru Job History
Julie Gichuru initially worked at Capital FM before moving to television as a reporter and news anchor at Kenya Television Network, part of The Standard Group.
During her time there, she the launched investigative series The Inside Story, focused on corruption, crime injustices and inequity in Kenya.
She later worked at NTV before moving to her current role at Royal Media Services.
Julie's career in the media over the past 15 years has seen her work across the fields of broadcast, print and digital media.
In 2000-2002 Julie ran a lifestyle magazine called Quest. Moving on to broadcast she worked as a news presenter and hosted a hard hitting radio talk show at Capital FM before transiting to television where she has created and hosted a record number of highly successful news and current affairs shows across a number of media houses.
Julie worked with a team at Citizen TV to conceptualize and host the groundbreaking news show Sunday Live with Julie. This pioneer news and current affairs show launched in 2008 at Citizen TV, redefining the style and delivery of news in Kenya.
In 2009 Julie conceptualized and hosted Fist to Five for Change, which facilitated reconciliation and healing for victims and perpetrators of post election violence in Kenya. She has also pioneered an impressive number of television shows, from the first Kenyan investigative TV series, The Inside Story, to various current affairs shows including the celebrated post election peace specials Voices of Reason.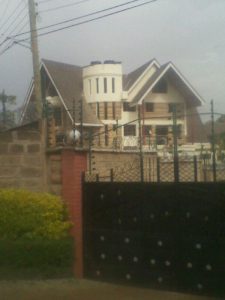 The Footprints Africa Foundation has been established by Anthony and Julie Gichuru to help empower and grow healthy, dignified and informed societies in the region. FAF supports the Great Debaters Contest and the Africa Leadership Dialogues, both platforms for discussion and exchange of ideas on African challenges and opportunities.
These forums are now televised for impact across millions of households. FAF also supports the Natembea Campaign launched by a youth group called the Gisma Group. This campaign empowers people with health and hygiene information and delivers shoes to schools in highly disadvantaged areas.
She is a recipient of Martin Luther King Salute to Greatness Award.
Julie Gichuru Parents
Julie is of mixed race, with her father's family originally from Kashmir and her mother's family from Kiambu. Her grandfather was born in Kabete. She lived along Wanyee Road in Dagoretti, Nairobi, in her early childhood. Mother and father divorced later.
She has 3 brothers and one half sister.
Julie Gichuru Husband
Julie Gichuru is married to Anthony Gichuru and entrepreneur in Nairobi
Julie Gichuru Family, Children
Julie Gichuruand Anthony Gichuru have had 5 children. They are Daniel Gichuru, Joseph Gichuru, Kimoshe Gichuru, Njeri Gichuru
Julie Gichuru Wealth, Net worth, Business
Julie Gichuru is an entrepreneur and African media personality. Founder and Chief Executive Officer of Arimus Media Limited, a production house focused on quality AFRICAN content, and MIMI HOLDINGS LTD, a fashion retail business.
She launched MCheza Sports betting lottery. The proceeds are hoped to look for talent from those undeveloped areas and try offer them a chance to make a living out of it.
Julie Gichuru Video
Julie Gichuru Age
Julie Guchuru is 42 years old as of 2016.
Julie Gichuru Contacts
Facebook: https://www.facebook.com/TheRealJulieGichuru
Twitter: https://www.twitter.com/juliegichuru
Google Plus: https://plus.google.com/u/2/109076851153997240323/posts