First Lady Margaret Kenyatta makes Americans cry. This is what she said about Kenyans while in the US
First Lady Margaret Kenyatta moved Americans to tears on Friday when she explained to them why she chose to run marathons rather than enjoy the comfort and trappings of her status.
Margaret Kenyatta, who was addressing thousands of Americans in Arizona, while launching the Beyond Zero Campaigns told them that she chose the grueling marathons to mobilize resources for the sake of Kenyan mothers and children who were suffering needless pain and unnecessary deaths.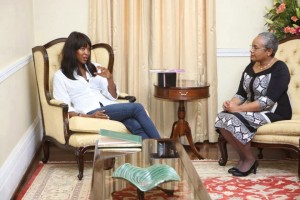 "I have literally been running marathons and I can understand if that doesn't immediately strike you as behaviour befitting the wife of a Head of State. But I assure you, it has all been for the greater good," Maggie said.
She received a standing ovation for her good work and a number of corporate firms from Arizona assured her of their support for the initiative.
In her speech, Margaret Kenyatta underlined the urgency to ensure all mothers and children access critical healthcare saying facts and statistics of the senseless deaths that continue to bedevil the country are staggering and sad.
The First Lady is in Arizona to raise money for her Beyond Zero Initiative that has reduced maternal deaths in Kenya by over 50 percent.