Did KTN's BETTY KYALO abort? A childhood friend spills the beans
KTN anchor, Betty Kyalo, stands accused of being a woman with loose morals since her teenage days after she paraded her flesh like those wannabee socialites you see flooding social media with raunchy photos.
An angry fan on social media alleged that the curvaceous anchor was impregnated at 21 and if this is true, then she might have killed the innocent kid because we all know she is a mother of one kid that she sired with Dennis Okari a few years ago.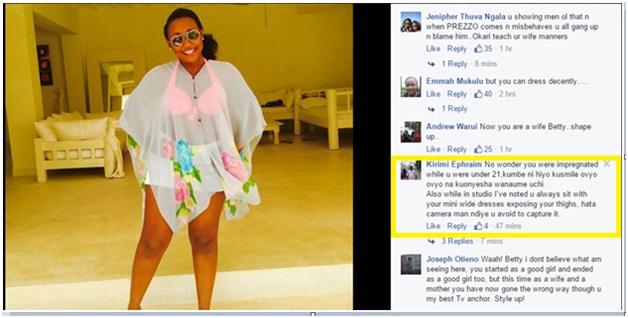 "No wonder you were impregnated while u were under 21. Kumbe ni hiyo kusmile ovyo ovyo na kuonyesha wanaume uchi. Also while in studio, I've noted u always sit with your mini wide, dresses exposing your thighs. Hata Camerman ndiye hu avoid to capture it." The fan ranted while commenting on Betty's photo that has caused a fuss on social media.
So, what happened after the curvaceous anchor was impregnated at 21 as this man claims? Did she flush?