Ann Waiguru SEXUAL scandals are emerging from the NYS scam pitying her, Kabura and EACC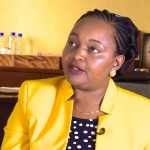 Fresh details have emerged how former Devolution Cabinet Secretary, Ann Waiguru SEXUAL scandals, used her office to cover up a Sh 792 million heist at the National Youth Service (NYS) where she was the chief mastermind.
In a 16 page affidavit filed at the high court, Josephine Kabura Irungu said Waiguru stage managed raids, arrests with an aim of covering up the NYS scandal.
Kabura, who is the chief suspect in the scandal, also said that she was warned of the raid by the Ethics and Anti-Corruption Commission well in advance by Mr Mugwanja, the Head of the Banking Fraud Investigations Department of the Directorate of Criminal Investigations (DCI) and advised to get rid of any evidence from her home.'
She even said that when she was arrested and taken to Kileleshwa Police Station on July 21st, 2015, she never spent even an hour in a police cell. She said that she was arrested, taken to the police station, and then driven home.
Kabura said in the morning that she was picked by Mr Matapei Sautet and taken to the station so that it would appear that she had spent the night there.
The businesswoman also said Mugwanja and some EACC officials were making s*xual advances at her and even threatened to expose her if she refuses to offer them her goodies.
She said Mugwanga was so close to Waiguru that she had even promised to convince President Uhuru Kenyatta to appoint him as the Criminal Investigations Department (CID) boss and sack Ndegwa Muhoro.